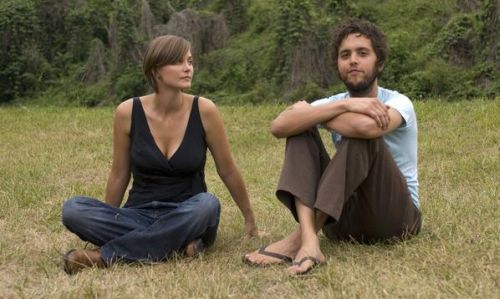 Last month, after countless recommendations from both friends and acquaintances, I finally sat down with a copy of The Everybodyfields latest LP Nothing Is Okay. I'm happy to report that its modern take on depression-era country and folk lived up to the hype. Hailing from Johnson City, TN, The Everybodyfields' core is made up of the songwriting partnership of Sam Quinn and Jill Andrews.   Alt.country fans of Caitlin Cary and Ryan Adams '90s work take note.
Download:
MP3: The Everybodyfields :: Aeroplane
MP3: The Everybodyfields :: Don't Tern Around
———-
Amazon: The Everybodyfields – Nothing Is Okay
www.theeverybodyfields.com ++ www.myspace.com/theeverybodyfields ++ eMusic
+ Everybodyfields available through eMusic's 25 Free MP3 offer.
————————————————————————————————————————
+ Visit The Hype Machine for additional Everybodyfields MP3s.