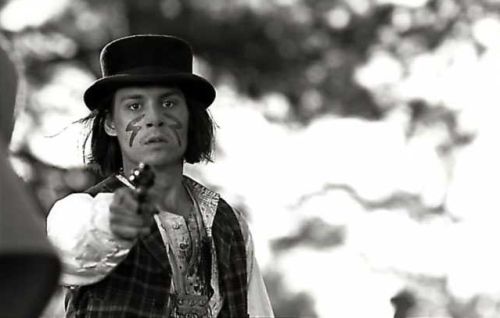 Are you William Blake? Yes, I am. Do you know my poetry? – Dead Man (1995)
The crux of this post is the unreleased acoustic/electric theme from Jim Jarmusch's film Dead Man, which, oddly, did not appear on the official soundtrack to the film. Thankfully, Neil Young die hards prevail, and a copy of the song has long been available on the live & rare Neil Young bootleg circuit. With the first installment of Young's fabled Archive series finally coming out next year, perhaps an authorized version of the tune will surface in the future.
A haunting mix of both acoustic and electrified guitars, the Dead Man theme perfectly compliments the haunting imagery of Jarmusch's black and white film. Those interested in Young's involvement in the film, will find the following excerpt, from a Jarmusch interview, particularly enlightening. And if you have yet to see the film, watch the video clip below set to Young's instrumental theme.
* * * * * *
"I've been a fan of Neil Young for many years, and I was listening constantly to Neil and Crazy Horse while writing the script for DEAD MAN. During the shooting of the film (and all the traveling it involved), we were also listening to Neil's music. Crazy horse even performed in Sedona, Arizona during our shooting period, and a large number of our crew attended the concert."
"From the very start of the project there were hopes of Neil Young performing music for the film, but I was never very confident that this would actually happen. When Neil finally saw an early cut of DEAD MAN and then agreed to score the film, I was ecstatic. (I should attribute this also to the fact that Jay Rabinowitz, the editor, had cut some sequences of the film to instrumental sections of Neil's existing songs as examples of how his music might work with the story)."
"Neil eventually played pump organ, detuned piano, and acoustic guitar, but the largest percentage of the music is from his electric guitar. |What he brought to the film lifts it to another level, intertwining the soul of the story with Neil's musically emotional reaction to it – the guy reached down to some deep place inside him to create such strong music for our film." – Jim Jarmusch
Download:
MP3: Neil Young :: Dead Man Theme (unreleased)
—
MP3: Neil Young :: Guitar Solo 4
MP3: Neil Young :: Guitar Solo 5
——-
Amazon: Neil Young – Dead Man (OST)

+ Download your music DRM free via eMusic's 25 Free MP3 trial offer.
————————————————————————————————————————-
+ Check out additional Neil Young tracks at the Hype Machine.