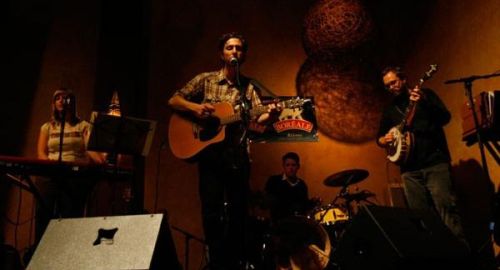 Tomorrow night Great Lake Swimmers take the stage at Spaceland — we'll be in attendance. I recently had an opportunity to catch up with Great Lake Swimmers principle songwriter, and founder, Tony Dekker, on assignment for The Arizona Republic. Below is an excerpt from the interview; click here for the full text.
Also: Last month Great Lake Swimmers, released a free 5-track Live EP recorded April 14th at Toronto's Church of The Redeemer. If you did not grab the zipped folder last month, you can grab the individual MP3s below.
* * * * * * * * * * *
Q: When Great Lake Swimmers began, it was mostly a solo project for your acoustic folk-based music. When did that change in terms of GLS becoming a "band" thing? Had you always envisioned your songs with broader arrangements? Was your earlier, stripped-down acoustic work based out of necessity?
A: Great Lake Swimmers was initially just a vehicle for my songs. I had always sort of intended for more people to be involved, and for several years there was a very fluid lineup which changed with almost every show. We still have people drifting in and out of the band, but the core of the group now is me, Erik Arnesen, and Colin Huebert. We've been touring and recording together for the last three years or so, so it feels a lot more like a band now. There's still an ever-changing seat in the band, though, and sometimes we have up to a five- or six-piece band depending on what makes sense at the time.
Q: Your albums have become known for both their reverb-soaked atmospherics, as well as their interesting recording locations (an abandoned grain silo in southern Ontario, a lakeside church in rural southern Ontario, etc.). How did you come to develop this signature GLS sound?
A: The decision to record in places that weren't studios was basically because of the stifled feeling that I get when in what would be considered a proper studio. I don't really consider it a signature sound as much as a quest for atmosphere. I like the idea that you can tell there are real people playing in a real room. It is a lot harder to fake it. I think the digital world is great because of its economy, but I guess I don't like things to sound too clean and polished when it comes to my own work.
Q: What do you look for when searching for a location to record your music? Is it strictly acoustics, or does the vibe and history or a place play a part in your decision?
A: Acoustics definitely come first, but there has to be a feel to the place, too. I think that buildings that have been around for a while definitely have a special resonance to them. It affects your performance, how you sing, and how you play your instrument. I like that about it.
+ + Continue reading my interview with GLS's Tony Dekker, at AZ Central, HERE…
Download:
MP3: Great Lake Swimmers :: Moving Pictures, Silent Films (live)
MP3: Great Lake Swimmers :: Put There By The Land (live)
MP3: Great Lake Swimmers :: I Am Part of A Large Family (live)
MP3: Great Lake Swimmers :: Various Stages (live)
MP3: Great Lake Swimmers :: There Is A Light (live)
——–
Amazon: Great Lake Swimmers – Ongiara

www.greatlakeswimmers.com ++ www.myspace.com/greatlakeswimmers ++ eMusic
+ Download Great Lake Swimmers via eMusic's 25 free MP3 no risk trial offer
———————————————————————————————————————
+ Visit The Hype Machine for additional Great Lake Swimmers MP3s