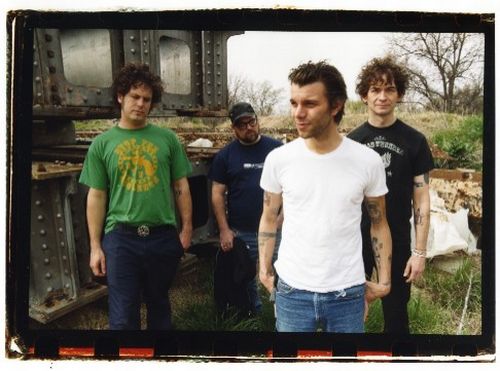 Lucero returns to Los Angeles, October 20th, along with Bobby Bare Jr., and we have three pairs of tickets to give away. Want to go? If so, leave your name, a valid email, and your favorite Lucero album in the comments. The winner will be notified by Monday night.
I recently caught up with Lucero front-man, Ben Nichols, on assignment for the Arizona Republic. You can read an excerpt below and the full text, here.
Formed in the late 1990s as an alt-country outfit, Memphis' Lucero has since transformed its sound into a 21st century take on the past 30 years of sweaty, barroom, thinking-man's rock and roll. Imagine a rowdier Bruce Springsteen or Steve Earle, crossed with the Replacements and you're on the right track.
* * * * * * * * * * *
Q: Lucero has been at it for almost a decade now. If given a crystal ball in 1998, do you think you would have been surprised at the level of success the Lucero of 2007 has achieved?
A: Sure. When the band started it was with the intention to maybe play a show. That's it. I'd always wanted to be in a touring, working band, but I never thought Lucero would be that band. I think we would have given up within the first couple of years if we'd had goals of any kind . . . if we'd been thinking about being a "real" band. So, no, I never thought we'd make it this far, but we're not out of the woods yet either.
Q: The ups and downs of your band were candidly captured in the documentary Dreaming In America. At the time of filming, labelless and financially strained, the band appeared to be teetering on the edge, in a real make-it-or-break-it situation. Obviously, you all are still around; how have things changed in the past two-plus years?
A: Things are still financially strained. But other than that, we've started our own label and put out two records in conjunction with support from a label called East West. The live shows have been going well, still growing bit by bit each time we come through a town. We went to Europe for the first time this spring. Other than that, everything's the same old stuff.
Q: Growing up in Arkansas, and making your home in Memphis, in what respect does the South play a role in your songwriting? Is it overt, or more of a subliminal thing smoldering beneath the surface?
A: The whole band started as an experiment, an attempt to write country-type songs. Now we've evolved into a pretty straightforward rock-and-roll band. I think we'll always have an element of where we're from in the music we play no matter what it sounds like. The South has had a long romance with the idea of the underdog. I think we fit into that role pretty well.
+ + Continue reading my interview with Lucero's Ben Nichols, at AZ Central, HERE…

Previously: Off The Record :: Ben Nichols of Lucero (Memphis, TN)
Download:
MP3: Lucero :: That Much Further West
MP3: Lucero :: Noon As Dark As Midnight
MP3: Lucero :: Sweet Little Thing
———
Amazon: Lucero – Rebels, Rogues & Sworn Brothers

www.luceromusic.com ++ www.myspace.com/lucero ++ emusic

+ Download Lucero via eMusic's 25 free MP3 no risk trial offer
————————————————————————————————————————
+ Visit The Hype Machine for additional Lucero MP3s