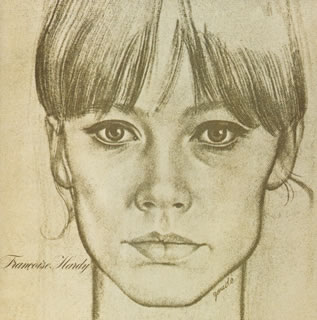 The hipster fascination with French pop is no secret. Ostensibly, it's because Serge Gainsbourg, Sylvie Vartan, Jane Birkin, et al, were turning out good songs. But what we see when looking at the artists themselves is something deeper. The idea of "hip" has many definitions, but its most sought-after form is one immersed in the world of art and culture. In that context, the yé-yé musicians relaxing in Paris in the '60s (and after) were hip personified. They spoke many languages, were as deft with a paintbrush as they were with a guitar and were–and are still–fashion icons. Their recordings–even remastered–have a tinge of scratchy reverb so that any disc or mp3 played today still spins like vinyl (sort of). The sound seems to emanate from the dark, smoky clamor of underground clubs, where crossed legs and long faces pull slow drags off longer cigarettes, and the world is discussed in the abstract rather than the practical.
So it seems, this is the yé-yé allure for the francophile and the hipster … and me. It's as much, or more, about the atmosphere around the music and its creators as it is the music itself. Maybe that's why Françoise Hardy is such a breath of fresh air.
She's been as integral to the movement as anyone could be – gracing countless magazine covers, marrying Jacques Dutronc and imagining a style adored by Silver Lake, the East Village and everywhere in between. But her sound is different, cleaner. Where her husband might be associated with the din of a bodega off a cobbled alley, hers is a sound more fitting of the French countryside. It isn't nearly as edgy as today's small-venue scene likes to be, but just as satisfying all the same. And in this way, despite her icon status, Hardy's music is unadulterated, liberated somewhat from the cultural obsession with artists like Serge Gainsbourg (still great in his own right, of course). Ars gratia artis–it's music for music's sake, not hip's.
Her 1968 release Comment Te Dire Adieu? is arguably her most popular, but its a great register of why she, in this blogger's opinion, separates herself from her contemporaries (not superior, per se, just distinct). I suggest listening to it on lazy weekends with the late-afternoon sun, gulping wine from the bottle and tearing bread from the loaf.
Of note: check out La Rue Des Coeurs Perdus, her cover of Ricky Nelson's Lonesome Town. Nice.
Download:
MP3: Françoise Hardy :: Comment Te Dire Adieu? (penned by Serge Gainsbourg)
MP3: Françoise Hardy :: Suzanne
MP3: Françoise Hardy :: Il N'y a Pas d'Amour Heureux
MP3: Françoise Hardy :: La Rue Des Coeurs Perdus (Ricky Nelson cover)
———
Once more, this is Drunkard correspondent Youngling #2 filling in. AD will be back next week.
+ Download your digital music DRM free through eMusic's 25 Free MP3 offer.
——————————————————————————————————————–