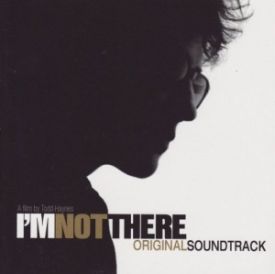 AD contributor, J. Neas, weighs in on the recent companion soundtrack to filmmaker Todd Hayne's new, and loose, Dylan biopic, "I'm Not There."
Tribute albums are always tricky; Bob Dylan tributes even more so. When you set out to cover someone with as distinctive a voice – lyrically, vocally and musically – it's guaranteed to be a mixed bag of results. A lot of times artists stick so close to the original it becomes useless, or else they mimic Dylan's delivery in a way that almost comes off as parody rather than ode. The soundtrack from the forthcoming Todd Haynes-directed Dylan biopic, I'm Not There, puts this most difficult of tribute genres to the test over 33 tracks. As with any tribute record, you aren't buying it for the whole mess, but rather searching for the truly mesmerizing versions that might surface. This one doesn't disappoint and actually somewhat exceeds expectations.
First, the disappointments. Eddie Vedder and the Million Dollar Bashers (a group compiled as a backing band for numerous tracks featuring Steve Shelley and Lee Ranaldo (Sonic Youth), Nels Cline (Wilco), Tony Garnier, Smokey Hormel, John Medeski and Tom Verlaine) crank out an upbeat but fairly rote version of "All Along the Watchtower" to open the first disc. Vedder, at least, doesn't succumb to the "let me try and sound like Dylan" school of cover-artistry, but that's about all that can be said. It's really not that their version is awful, or even bad, it's just not great, and when you're stacked up against the historical heights of Dylan's original or the song-defining version by Jimi Hendrix, you're going to have to do better. Mason Jenning's two offerings ("The Lonesome Death of Hattie Carroll," "The Times They Are A-Changin'") are so faithful, down to the solo-acoustic guitar performance, that it makes you wonder why he bothered at all…..
From Vedder and Jennings I can put up with mediocre output, but I was surprised at how bored I was with the majority of Stephen Malkmus' songs. "Ballad of a Thin Man" and "Maggie's Farm" are both lackluster – the latter especially. It's never been one of my favorite Dylan tunes and it falls into a category of songs I think no one should ever try and cover simply because of how much they firmly belong to the original artist. ("Highway 61 Revisited" is also on that list – here done no great service by Karen O. and the Million Dollar Bashers.) Malkmus' lone redeeming song, and the only one where he lets his own unique phrasing shine through rather than attempting a Dylan sop, is "Can't Leave Her Behind," a slow and gorgeous song that is all too short.
There are any number of shrug-inducing covers here – Mira Billotte ("As I Went Out One Morning"), Charlotte Gainsbourg and Calexico ("Just Like a Woman"), Jack Johnson ("Mama, You Been On My Mind"), Glen Hansard and Marketa Irglova ("You Ain't Goin' Nowhere") – even Jeff Tweedy's version of "Simple Twist of Fate" isn't anything to shout about, though it is interesting for the lone fact of getting a great look into how much of Tweedy's inflection and sound over the years has absorbed Dylan's influence.
So after knocking half the record, where does it go right? Despite my previous mention of them in the shrug-inducing category, with that lone exception, if a track on this record says Calexico was involved, it's a winner. They team up with Jim James (My Morning Jacket) for a gorgeous rendition of "Goin' to Acapulco" that recalls the original well while using James' ethereal vocals to make it soar into the atmosphere. They serve as a wonderful backing band for two legendary voices, Roger McGuinn and Willie Nelson. On the former, McGuinn's voice, an older, airier version of the one so well known from his years with the Byrds, gives a sadder, more weary feel to "One More Cup of Coffee" and there could be no better band to re-create the border-flavorings of "Seî±or (Tales of Yankee Power)" with Willie Nelson. (Let me second the comment I read somewhere encouraging a cd of Nelson/Calexico collaborations.) Calexico also re-teams with Iron and Wine, for the first time since 2005's In the Reins, for a remarkable turn at "Dark Eyes," originally from Empire Burlesque, which Sam Beam turns into a fully realized Iron and Wine song by the end – sounding as if it could've come straight off of their Our Endless Numbered Days.
The late 70s-through-early 90s Dylan records, so often scoffed at or belittled, get a rare treatment here. The aforementioned Willie Nelson and Iron and Wine tracks both come from that period. John Doe does a faithful, but impressive, version of "Pressing On," originally from born again-era album Saved. Mark Lanegan and Sufjan Stevens take separate cracks at songs from Oh Mercy – "Man in the Long Black Coat" and "Ring Them Bells," respectively – the latter of which Stevens turns into nearly twice its original running length with a complex rave-up coda that sends the song nearly surging over the edge.
There are also a number of tracks where artists make them into their own. Yo La Tengo turns "4th Time Around" into an outtake from ..and then nothing turned itself inside out, Georgia Hubley's vocals taking the song into a more sublime realm. Similarly the Hold Steady's version of Blonde on Blonde-outtake "Can You Please Crawl Out Your Window?" sounds like something that could have come off of any of their most recent records. The original's distinctive sound becomes the band's, churning with the bar-band chug of their best work. The Black Keys crank out a blistering blues stomp in their take on "The Wicked Messenger," one of the more raucous songs on the collection. Tom Verlaine and the Million Dollar Bashers deliver an eerie, desperate version of "Cold Irons Bound," originally from 1997's Time Out of Mind (the most recent song to appear on the soundtrack). It takes the original's misty, dark feel and adds a mystic-fervor to it, largely due to Verlaine's inimitable phrasing, as unique as Dylan's. One of the last tracks is a gorgeous rendition of "Knockin' on Heaven's Door" performed by Antony and the Johnsons. The trembling, uncertain position of the song's protagonist is brought more into the light through Antony's wavering vocals. A really great end to the second half of the collection.
Dylan tributes are a tricky business, but despite the songs that don't work, this collection is well worth picking up. Other artists I didn't even get around to mentioning (Sonic Youth, Ramblin' Jack Elliot, Cat Power, Los Lobos) are wonderful additions to this collection as well. And in the spirit of the film's creation of Dylan as a shifting, multi-faceted performer, these covers do well to match that feeling.