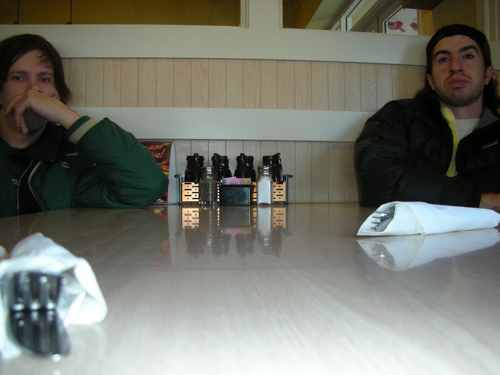 I have mixed feelings about the term garage rock. While, at times, it's certainly the best way to describe a sound, it's nebulous and somewhat recklessly tossed around to define the indefinable. I also feel that it can create an implied ceiling for a band or artist's potential. Because how far can a ragtag group of garage dwellers go? It often hints of unpolished, messy riffs bouncing off trash cans, house paints and your little brother's bicycle. That can seem more like a summer chore than music.
That said, there are plenty of great "garage rock" bands out there. The late '90s and early part of this decade saw a fast revival of a genre born in the '60s. And there's something raw, innocent, and even inspiring about the trash-paints-and-brother's-bike sound.
I preface with that because previously dubbed garage rock band The Whigs came to town as the latest stop in the Aquarium Drunkard Presents series**. I say "previously dubbed" because in many forums that's how they've been described. And, admittedly, that's how I might have described them. That is, until I saw them live. To be sure, I've been fan for a little while now, maybe a year, maybe less. But seeing The Whigs in action has changed my perception of what they are, and it might prevent me from prematurely labeling something simply because I don't know what it is, because I can't define it. In short, calling The Whigs garage rock is far too simple an explanation for the Athens, Ga. band. It's too simple because their sound–and without a doubt their performance–is bigger than that.
The band shares the stage in a way that few young bands do. For all its grit and sweaty, southern-spun elements, The Whigs play together seamlessly. Each individual performance — bass, guitar and drums–impressively stands alone, but participates evenly with the other pieces. Essentially, there's nothing out of place or messy, while much of the garage-rock period intentionally lays down dissonant recordings with unfettered instrumental. Taking into account the individual talents of Parker Gispert, Julian Dorio and new bassist/guitarist Tim Deaux, it's surprising The Whigs don't fall into that.
Drummer Julian Dorio easily lives up to, and surpasses, the hype of recent press. He's one of the best I've seen. Period. He doesn't leave any empty space while carrying the rhythm, filling in what are usually expected gaps or pauses without overpowering the broader sound. Not easy to do for a drummer on a small stage. But he does it. While playing, his body rolls fluidly behind the drum set as though he's dancing to the music, up until the point where he lowers his head and dives into a jam.
Given Dorio's accolades, his prowess was almost expected. I was more surprised and equally amazed by the talents of Gispert and Deaux. Parker Gispert–somewhat reserved offstage–plays the front man as it should be played. He is the selfless leader of the show with an understated but powerful presence that doesn't distract from the others. He flashes across the stage only when necessary or, better said, only when he can't control it. Equally proficient on the keys as he is on guitar, Gispert takes a seat behind the ivories from time to time. One of these in particular, Half the World Away, offers Deaux the chance to set down his bass and pick up the guitar in Gispert's place. In doing so, Deaux treats the guitar as an extension of his body, like something that's always been there. Tuesday night, at about the 2:30 mark of that song, he absolutely lost his mind for well over a minute, roaring into a trance-inducing wail.
See, it's necessary to highlight their individual talents as a function of explaining why this band is more than garage rock and why it has the potential to reach beyond its contemporaries. For instance, the trademark of probably the most notable garage revival band, The Strokes, is (primarily) their muddled sound. And there's something great about that. But The Whigs could do more because their parts are capable of equaling a much more significant whole. And that's why I say there sound is bigger than garage rock, or at least, it can be. If you can't hear it on their records, then maybe it takes a live show to figure out that these guys aren't just tinkering around at the top of a driveway. Simply put, they're doing some pretty impressive shit.
Together since 2002, they're releasing just their second LP, Mission Control, January 22 next year. If they can become more prolific in their output, then I think you'll see this band evolve a great deal in the coming years. So, whether they have a ceiling is really up to them.
**I hate to leave out Le Switch, Wild Sweet Orange and Blair, who also had good performances, but The Whigs put on a fucking rock-and-roll show.
Download:
MP3: The Whigs :: Technology
MP3: The Whigs :: Don't Talk Anymore
———-
Amazon: The Whigs :: Give 'Em All a Big Fat Lip
———-
www.thewhigs.com ++ www.myspace.com/thewhigs
Ed Note: They played a few tracks from the new disc at the show. I wish I had one or two to share. I *highly* recommend picking it up when it arrives.
+ Download The Whigs. Explore eMusic's 25 Free MP3 trial offer. No strings.
———————————————————————————————————————