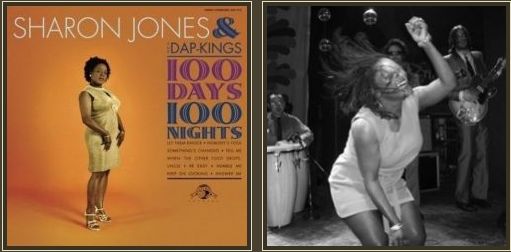 Released in October, Sharon Jones & The Dap-Kings 100 Days, 100 Nights is an incredibly soulful album that in a perfect world would be topping the charts. Whether flying solo or backing Ms. Jones, Brooklyn's The Dap-Kings, the house band for Daptone Records, never fail to deliver the impeccable soul and funk chops that seemed to come so readily, and effortlessly, three decades ago. Think: The J.B.'s, think Stax, think the Muscle Shoals sound.
Now translate those thoughts to a contemporary working band, who, while not recording with Daptone artists, are out bringing the house down, both as a whole unit or splintered into various funk, soul, and r&b offshoots.
Like Jones & The Dap Kings previous albums Naturally, and Dap Dippin', 100 Days, 100 Nights continues to mine the best natural ingredients of the soul r&b canon spanning the past five decades.
Sharon Jones & The Dap-Kings :: 100 Days, 100 Nights
Download:
MP3: Sharon Jones & The Dap-Kings :: 100 Days, 100 Nights
MP3: Sharon Jones & The Dap-Kings :: Tell Me
———–
Amazon: Sharon Jones & The Dap-Kings – 100 Days, 100 Nights
+ Download Sharon Jones & The Dap-Kings via eMusic's 25 free MP3 no risk trial offer
————————————————————————————————————————-
+ Visit The Hype Machine for additional Sharon Jones & The Dap-Kings MP3s