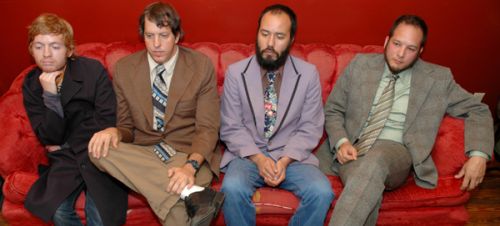 Off The Record is a recurring, feature here on the Drunkard, that marries two of my greatest interests; music and travel. Having a locals perspective when visiting a new locale is the difference between experiencing it through the lens of a tourist and of that of a native.
Off The Record gathers some of my favorite artists, asks them to reflect on their city of residence, and choose a handful of places they could not live without, be them bookstores, bars, restaurants or vistas.
* * * * * * * * * * * * * * * * * * * * * * * * * * * * * * * * * * * * * * * * * * * * * * * * * * * * * * * * * * * * * * * * *
Off the Record with Jim from Ham1 : Places to see and visit in Athens, GA
"One man's trash is another man's treasure" could be the mantra that many musicians and artists live by in the arts and music "townie" scene in Athens. We're obsessive-compulsive collectors and scavengers here. It clutters our houses, informs our dress, and riddles our conversations with obscure movie and music trivia.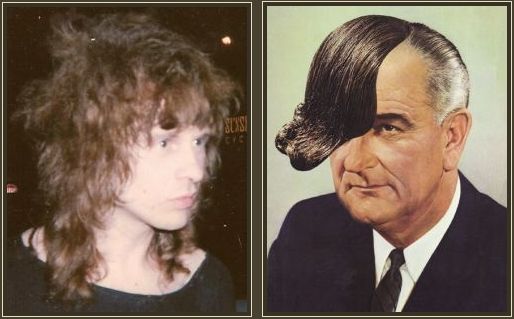 X-Ray Café — Paul Thomas is the shop owner. He's a self-styled avant-garde artist who dresses in a casual "Renaissance" manner and has a hair-do similar to that worn by the seventies power pop band, The Raspberries. Paul has sold his artwork to such famed music luminaries as Thurston Moore, and has played music with Allen Ginsburg. Along with some of his own collages, Paul sells unique objects and antiques. Many of these knick-knacks look like they belong on the cover of a Butthole Surfers album…. and that's a good thing! Paul also sells excellent coffee, books, and music. See Paul's collages at www.faygoldgallery.com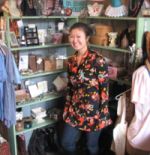 Agora — If you like fifties and sixties antiques, mod decor, folk art, or vinyl of all genres, this is a great place to stop by. Airee Hong, the owner, has a nose for cool stuff. It seems like there's a fast turnover, which means there's always more interesting stuff every time you hit it. This is not just a vintage store — many musicians and artists lease space here to sell their art and collectibles. In Airee's own words, "Agora is an eclectic collaboration of many artists and musicians, sharing their love for vintage and antiques!"
The J&J Flea Market — Everybody who comes to Athens should experience this place. It's one of several flea markets that calls itself, "THE BIGGEST FLEA MARKET in GEORGIA!" While the jury's still out on the actual winner of this boast, the J&J is definitely (in this writer's eyes) the most interesting flea market in Georgia. Where else can you buy irregular tube socks at one table, and a goat on a rope at the next? I have friends who have been known to go out drinking all night on a Saturday night, only to finish their night eating chicken biscuits at the J&J's own "Flea Bite Café" at 7:00 AM Sunday morning. 11661 Commerce Rd Athens, GA 30607
Flicker Theatre and Bar — I'm not really sure how to categorize this place — it's a bar, a theatre, an art space, a rock club, and a museum to eclectic movie memorabilia. Recently, Clint McElroy and Jeremy Long, the famed movie critics via their "Flick Skinny" movie comic, purchased the bar and "turned up the volume." Now there's even more cult movies, loud rock shows, art openings and vaudeville extravaganzas featured every day of the week. See Clint and Jeremy's movie review comic at www.flickskinny.com.
High Voltage — Zach Hosey has been collecting vintage stuff for more than a decade. His collection of music instruments has gained notoriety for "awesome-ness" over the years. So naturally, when the record store in front of the 40 Watt closed more than a year ago, Zach, a long-time 40 Watt employee, moved his giant collection of vintage instruments in, and started High Voltage. The instruments now cover the twenty-foot high pressed-tin walls of the small store. If you are a musician with good taste — beware. If you go in you may end up parting with some greenbacks. Many touring bands have been known to spend their show profits here. A good analogy would be: Kids : Candy Store :: Musicians : High Voltage.
Previously: Ham 1 :: The Captain's Table (November 2007)
Download:
MP3: Ham 1 :: Clown-Shoed Feet
MP3: Ham 1 :: Hare Lipped Bust
MP3: Ham 1 :: White Rat
———–
Amazon: Ham 1 – The Captain's Table
www.orangetwin.com ++ www.ham1.org ++ www.myspace.com/ham1
+ Download DRM free music through eMusic's 25 Free MP3 offer.
———————————————————————————————————————–
+ Visit The Hype Machine for additional Ham 1 MP3s.