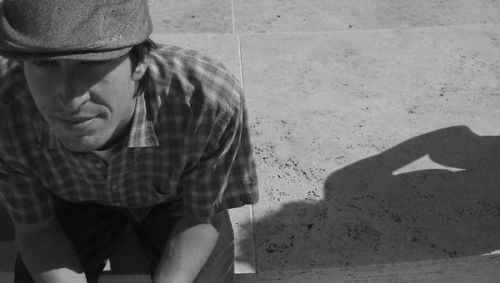 Off The Record is a recurring, feature here on the Drunkard, that marries two of my greatest interests; music and travel. Having a locals perspective when visiting a new locale is the difference between experiencing it through the lens of a tourist and of that of a native.
Off The Record gathers some of my favorite artists, asks them to reflect on their city of residence, and choose a handful of places they could not live without, be them bookstores, bars, restaurants or vistas.
Today's Off The Record, with Frankel (who recorded and released our fourth favorite LP of 2007), marks the third installment of the series reflecting on the city of Los Angeles. You can read Division Day's submission HERE, and The Broken West's submission HERE. What's great (and very telling of the city itself) is that none of the three are even remotely the same.
* * * * * * * * * * * * * * * * * * * * * * * * * * * * * * * * * * * * * * * * * * * * * * * * * * * * * * * * * * * * * * * *
Ahem…Check, check, one, two. Justin, can you pull the high end down? I'm still getting some hiss in the stage-left wedge.
Los Angeles is one of the most geographically expansive cities in the world. You could spend a solid hour in the car (traffic not included) and not get from one corner to the other. Daunting? Yes, but worth the headaches for some top-shelf haunts.
I feel compelled to start with my immediate stomping grounds, which is lovely Korea Town, USA. ~ Frankel
1. Taylor's Steak House – Taylor's is a 1950s steakhouse in the heart of K-town and is The Real Deal. Like a noir gin joint from the pages of a Raymond Chandler novel, this is where 2 martini lunches were standard fair (if they're not still). It's definitely not cheap but it's worth eating Top Ramen for 99 and one-half days to make it happen.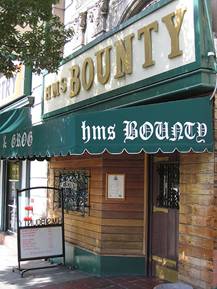 2. HMS Bounty – Located in the historic Gaylord building, this is undeniably the best bar in the city. Built in the 1920s, it's another Los Angeles gem that has escaped becoming a Pinkberry. It's a nautically themed watering hole (HMS = Her Majesty's Ship) with red vinyl booths, dark paneled walls and a friendly but no bullshit staff. The Bounty clientele is equal parts 1) pale indie kids with bad haircuts and 2) retired Vets and jazz musicians with pickled livers. Where else can you sip a strong mixed drink for $5 while being comforted by Count Basie on the jukebox?
3. Norman's Rare Guitars – I'm cursed with this affliction of constantly buying, selling and pining for vintage acoustic guitars. Norm's has been around since the mid-70s and has some truly amazing instruments. 95% of the inventory is out of my league, but sometimes a poor boy just needs to hold a vintage Martin D-28 and pretend it's possible to be Neil Young.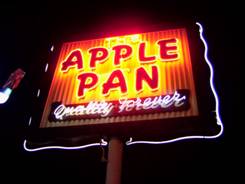 4. The Apple Pan – In recent years, I have (barely) held down gainful employment on the Westside of town. If there's one redeeming aspect to this plight, it is close proximity to The Apple Pan. Another old world treasure (sensing a theme here?), this '40s burger joint has exactly one room, one grill and a horseshoe shaped counter. There are all of 6 things on the menu and you would be a fool to deviate from the Hickory Burger. Also, wars have been fought over less than a slice from one of their homemade pies.
5. New Beverly Cinema – What's not to love about a run-down revival movie house in the Fairfax District? Formerly an old vaudeville theater, and then a porno theater, The New Bev screens double-feature films that have a common thread (i.e. director, actor). "A Clockwork Orange" and "Dr. Strangelove" on the big screen for $6 is tough to beat. With all the first-run megaplexes in town, I'm delighted that Angelenos still revere Golden Age classics enough to keep this place in business…for now.
Download:
MP3: Frankel :: X Marks The Spot
MP3: Frankel :: Tooth Decay
——-
Purchase: Frankel – Lullaby For The Passerby

www.frankelmusic.com ++ www.myspace.com/frankel ++ eMusic

+ Download Frankel's album using eMusic's 25 free MP3 no risk trial offer
———————————————————————————————————————–