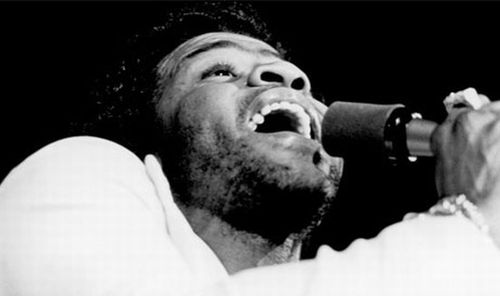 December 16th, while in Memphis, TN, ranks up as one of the finest Sundays I have yet to experience. And I ain't talking about no ice cream treat neither. Yeah, that's right, I'm talking about day seven of the week. A brief recap: Woke up – the temperature a crisp 36 degrees – got in the car with my lady-friend and headed out to the Reverend Al Green's Full Gospel Tabernacle. Yup, that Al Green.
I imagine a good portion of AD's readership are (at least by proxy) aware of the the Reverend's secular '70s output ("Love & Happiness," "Let's Stay Together," et. al), but I'd wager not many are heavily versed in the man's religious long -player offerings. I know I'm not (if you are, hit me up in the comments or shoot me an email – I'd love to discuss). As a huge fan of the man's early seventies output, walking into the building that morning felt like a cross between a time warp and '70s Memphis soul documentary.
The story goes that beginning in 1976, albeit shrouded in skepticism, Al Green founded his church at 787 Hale Road approximately a mile or so from Graceland. As luck would have it we just happened to attend on the day of its 31st anniversary. Now, if I was ever unsure how to define soul power, I can say without question that I left that church, mid-afternoon, having witnessed the very definition in action. Only in my imagination had I envisioned a church service with accompaniment from a STAX-like backing band. The reverend was flanked by a 10-15 person gospel choir, two drummers, a bassist, two guitarists, a keyboard player and organist. Not only did the Reverend sing/preach, but the band often accentuated various statements and proclamations with an organ fill, kick drum, or combination of both. I'm fairly confident attendance in most places of worship would be wayyy up if this was the norm.
Up Next: Having been completely blown away, we got back in the rental car and drove not five minutes to our second destination. A pilgrimage if you will — to the mother of all musical fanaticism, rock & roll mecca, and ground zero — Elvis Presley's Graceland. Stay tuned…
Below: Let's take this opportunity to highlight a secular Al Green cut, a Beatles cover, which can be found on the Soul Sides curated compilation: Soul Sides, Vol. 2: The Covers.

Download:
MP3: Al Green :: I Want To Hold Your Hand (cover)
———
Amazon: Soul Sides, Vol. 2: The Covers
Selected Al Green Videos:
* Al Green :: Take Me To The River – Al Green performing live on SOUL TRAIN. "Nuff said.
* Al Green :: Let's Stay Together – Al Green sings his hits…in a fly plaid suit. Dig.
* Al Green :: Funny How Time Slips Away – Al in the '90s..with Lyle Lovett!!

+ Download your music DRM free via eMusic's no risk 25 Free MP3 trial offer.
———————————————————————————————————————
+ Visit The Hype Machine for additional Al Green MP3s.