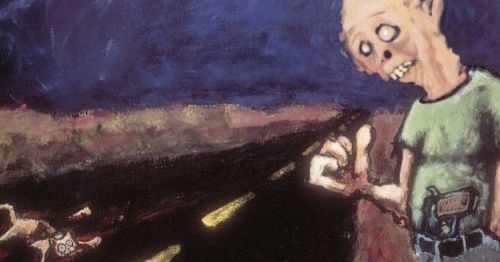 The past few years have found me slowly re-building my Dinosaur Jr. collection — piecemeal. Sometime in the mid-late '90s, while living in Athens, GA as a student, I sold the majority of it off to various downtown record stores. Now, a decade later I'm re-purchasing it. Actually, I find myself doing this a lot; most likely a by-product combination of being a) a collector, and b) slightly neurotic. Whatever, I just chalk it up to being old skool, baby. Feel me? Yeah.
I (thankfully) do not have that seemingly unyielding preference for pre or post Lou Barlow-era Dinosaur albums that many fans exhibit. I can tell you that since re-acquiring them, both Green Mind (1991) and Where You Been (1993) have been absolutely destroying my car's stereo of late. Listening to these it's like high school all over again — just sans the cigarettes, shitty weed, and whole 'no responsibilities' thing.
The two tracks below can be found on Dinosaur Jr.'s Where You Been LP…and usually for six bucks in the used section of your local record store. While "Out There" admittedly shreds, make sure you listen to "Not The Same." Due to his guitar work J Mascis has long been heralded by the media, and fans, as an heir to Neil Young, but here, on "Not The Same," Mascis exhibits another side of his forbear not unlike the mood on Young's "The Old Laughing Lady." Also, be sure to to watch the video for "Out There." J. Mascis playing guitar on top of a snow-capped mountain?? Yes, please.
++ If you missed it, last year's Dinosaur Jr. reunion album, Beyond, sounds just like the Dinosaur Jr. albums you remember. How 'bout that. You know the saying, if it ain't broke…

Elsewhere: Pop Headwound is presently hosting Springsteen's Nebraska demos.
Download:
MP3: Dinosaur Jr. :: Out There
MP3: Dinosaur Jr. :: Not the Same
—
Video: Dinosaur Jr. – Out There
———–
Amazon: Dinosaur Jr. – Where You Been

www.dinosaurjr.com ++ www.myspace.com/dinosaurjr ++ eMusic

+ Download your digital music via eMusic's no risk 25 Free MP3 trial offer.
————————————————————————————————————————–