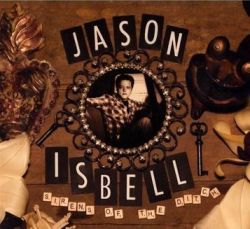 Later this month Aquarium Drunkard presents Jason Isbell, live at Spaceland, on January 25th — details to be announced + ticket giveaway. In preparation, AD contributor J. Neas reflects, and weighs in, on Isbell's debut solo LP, 2007's Sirens of The Ditch; an album that was in the can for over a year, but not released until Isbell's early-summer departure from the Drive-by Truckers. – AD
It's fitting that I'm writing this review now rather than when this album was originally released over the summer. I've had the luck of seeing Jason Isbell live three times this year (and it'll be four by the time the year is officially over), in addition to interviewing him. My love of the Drive-by Truckers and Jason's songwriting is pretty obvious to even casual readers/listeners of the blog/radio show. So I sometimes stay away from reviewing albums like this when they first come out – my opinions are bound to be affected by my unabashed fan-dom. For listeners who are fellow lovers of Isbell and his like that's not a bad thing necessarily. If another person who listens often loves it, they probably will as well. But for people new to the music, does a die hard fan's notes on an album really give them insight to the merits of the record? This is why the intervening months have given me a good perspective on this album – not only with the numerous listens to it that time has afforded me, but also the numerous live incarnations I've gotten to absorb as well.
If there's a direct comparison for Sirens of the Ditch, spirit wise, not stylistically, it's the Replacements' swan-song, All Shook Down. This may seem like an odd comparison, but bear with me. By the time All Shook Down was recorded, the Replacements were on the ropes. Paul Westerberg knew that they weren't long for this world, and his eyes were already cast ahead to a future solo career. The album only features one song in which all four of the band members play as the rest of the album was filled in by session musicians and various cast-abouts. Critics have often referred to it as the true, first Westerberg solo album and it certainly bridges the gap between the Replacements' work and his debut LP, 14 Songs. Likewise for Isbell. The album, four years in the making, dating back well before Isbell's departure from the Drive-by Truckers in the spring of '07, is a hodge-podge of musicians largely familiar to Truckers fans – Shonna Tucker, Brad Morgan, Patterson Hood, John Neff and David Barbe all play on the album. The album was largely completed before his leaving the band, making it akin to All Shook Down, but anyone who has seen Isbell and his 400 Unit band live since the album's release also know that it only partially represents the sound for which Isbell has been going. It makes Sirens of the Ditch the perfect bridge album between his years in the Drive-by Truckers and his building solo career.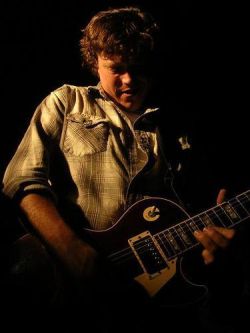 The album starts off a bit uneasy – "Brand New Kind of Actress," "Down in a Hole" and "Try" are all songs that have vague echoes of the type of music Isbell has been crafting for the entirety of his three-album stint with the Truckers. They also tend to go on too long – where Isbell's riotous, Southern-rock guitar workouts are great in a live setting, they don't always transfer well to the studio. But from track four onward, the album is a piece of work.
"Chicago Promenade" kicks off a glorious run of songs with its Springsteen-esque piano opening, leading into one of the album's most anthemic moments. "Dress Blues" (last week named the J's Indie/Rock Mayhem Best Single of 2007) is a tear-jerking true narrative about a soldier who doesn't come home from the Iraq war, easily one of the most insightful and delicate songs written about the late unpleasantness. "Hurricanes and Hand Grenades" lets Isbell show off a bit more vocal range among the smoky, bluesy, Muscle-Shoals r&b shuffle. All of these are wonderful songs that dredge up emotions, foot-tapping and sing-along moments a plenty.
"In a Razor Town", along-side "Dress Blues," is the album's most tender moment. In a duet that features his former wife, Shonna Tucker, the song dances along the edge of small-town loneliness and desperation, the narrator urging his listener to see beyond the town limits, to be willing to take chances. As a potential metaphor for Isbell beginning his solo career, it works magnificently. "The Magician" itself in the guise of a 'miracle' worker whose feats have failed to take him anywhere significant – he ends the song with the repeated statement that there is "somewhere worse than here," though his belief in that statement isn't sure.
As a blueprint for where Isbell could go, this album is a good one. With plans to record his next LP with the finely honed 400 Unit in tow, it's bound to be a more solid representation of his sound. Either he will more firmly entrench himself in more of what long time listeners might expect (akin to the first three songs on this album) or keep reaching outward. Isbell's songwriting chops seem to be getting better and better – here's hoping he makes good on the amazing legacy he seems on the verge of creating. – J. Neas
Download:
MP3: Jason Isbell :: Dress Blues
MP3: Jason Isbell :: Hurricanes and Hand Grenades
———-
Amazon: Jason Isbell – Sirens of The Ditch
www.jasonisbell.com ++ www.myspace.com/jasonisbellmusic ++ eMusic
+ Download Jason Isbell via eMusic's no risk 25 Free MP3 trial offer.
————————————————————————————————————————–
+ Visit The Hype Machine for additional Jason Isbell MP3s.