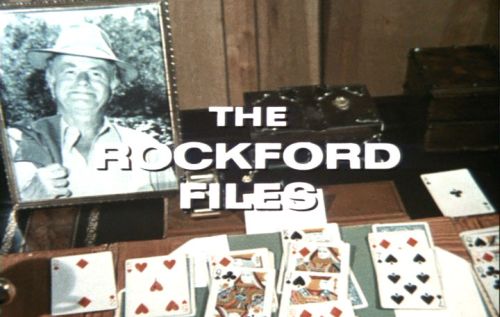 Lots of new features on ye olde Drunkard to keep an eye out for in 2008 – the first of which, Retro TV Themes Revisited, aims to mine our long-running collection of past television (aural) glories. Have at it in the comments.
What happened to actors like James Garner? The man epitomizes the no-frills badass archetype. His private dick role as Jim Rockford, on the Rockford Files, bucked the genre stereotype and gave Rockford a backstory of not an ex-cop, but as that of an ex-con. Yeah, dig that. I'm fairly certain another TV show aired this past Fall with a very similar story, recycling The Rockford Files idea, but having the state award the protagonist a shit load of money, or something, for his time(?) And…we're back. A-ha, after a quick Google search, the name of said show is LIFE. Never seen it.
Anyway, the The Rockford Files theme song was (according to wiki) composed by Mike Post and Pete Carpenter, received Top 40 radio airplay, went to #10 on the Billboard Hot 100, stayed 44 weeks on the charts, and won a Grammy Award for Best Instrumental Arrangement. That's all cool, but you haven't really driven through L.A. until you've done it with this tune blaring with the windows rolled down. Note: this is also true of Randy Newman's dystopian "I Love L.A." Trust me.
Related: See previous Retro TV Themes Revisited posts…
Download:
MP3: The Rockford Files (TV Theme Song)
—
Video: The Rockford Files – Intro
———
+ Download your digital music via eMusic's no risk 25 Free MP3 trial offer.
————————————————————————————————————————