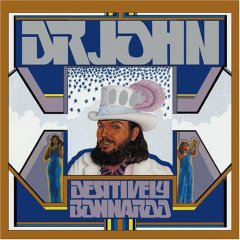 Consider this is the first New Orleans related post leading up to Mardi Gras (as part of our annual month-long Fat Tuesday lead up series). This album is one of my favorites in the Dr. John oeuvre. Laissez les bons temps rouler.
I have but one ritual when I visit the Amoeba music, on Sunset Blvd, that I rarely ever forget to practice; nothing too hoodoo either, just a walk to the back of the store, to the New Orleans department, and a quick thumb through the Dr. John section, both vinyl and CD, for a copy of the good doctor's 1974 LP Desitively Bonnaroo. Notoriously and consistently in and out of print (what's up with that, anyway?), the album just drips with the funk. Backed by The Meters and produced by Allen Toussaint, Desitively Bonnaroo is something like the nasty older sister of the Doctor's In The Right Place LP which boasted the same home team of players and producer. Not one to miss.
Note: The below cover of "(Everybody Wanna Get Rich) Rite Away" is off Robert Walter's Money Shot LP, a collaboration with Galactic's Stanton Moore on drums. If you ever have the opportunity, catch Walters' band live. They kill.
Further Reading: For those looking to get their nails a little dirty, I cannot recommend enough the Dr. John biography Under a Hoodoo Moon : The Life of the Night Tripper.

Download:
MP3: Dr. John :: What Comes Around (Goes Around)
MP3: Dr. John :: (Everybody Wanna Get Rich) Rite Away
—
MP3: Robert Walter's 20th Congress :: (Everybody Wanna Get Rich) Rite Away
———-
Amazon: Dr. John – Desitively Bonnaroo
+ Download Dr. John via eMusic's 25 free MP3 no risk trial offer
————————————————————————————————————————
+ Visit The Hype Machine for additional Dr. John MP3s