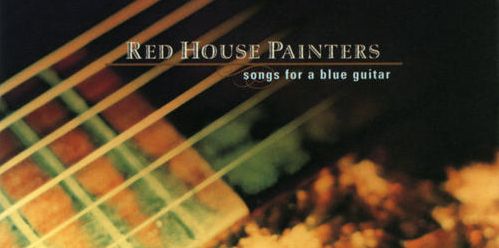 Muzzle of Bees recently tipped us off that Mark Kozelek's Sun Kil Moon are set to release their next LP, April 1st, via the artist's own caldo verde records. Appropriately entitled April, you can stream the first single "Moorestown," off the LP, here. This is welcome news, as Kozelek's brand of bummed out neo-folk music has long been a mainstay around these parts. It's worth noting his last Sun Kil Moon LP, Tiny Cities, comprised entirely of acoustic Modest Mouse reinterpretations, was one of our favorite albums of 2005.
Fortuitous news indeed, as I had just recently reacquainted myself with the Red House Painters LP Songs For A Blue Guitar, after featuring several of the tracks on our radio shows. A Mark Kozelek solo album in all but the name, it was released in 1996 (reportedly after being dropped by longtime label 4AD after Kozelek refused to whittle down the 12+ minute track "Make Like Paper") and served (along with What's Next To The Moon) as my introduction to both Kozelek's music, as well as his flair for covering other artists material in completely new, and sometimes unrecognizable formats. In this case, Paul McCartney's bouncy "Silly Love Songs" morphs from well, a silly ditty, into an extended eleven minute jam of crunchy, Crazy Horse-styled, guitars.
It was soon after hearing this LP I realized I was buying whatever Kozelek was selling. While Sun Kil Moon's Ghosts of the Great Highway may be the most fully realized document of Kozelek's muse, Songs For A Blue Guitar remains a close second and personal favorite.
Note: The first track below, "Have You Forgotten," is the original album version, not to be confused with the re-recording Kozelek did for his friend, filmmaker, Cameron Crowe's Vanilla Sky soundtrack. It too is most definitely worth seeking out.
Previously: Ghosts of the Great Highway :: 2007 Reissue
Download:
MP3: Red House Painters :: Have You Forgotten
MP3: Red House Painters :: Make Like Paper
———-
Amazon: Red House Painters – Songs For A Blue Guitar
www.sunkilmoon.com ++ www.myspace.com/sunkilmoon ++ caldo verde records
+ Download Sun Kil Moon via eMusic's 25 free MP3 no risk trial offer
————————————————————————————————————————
+ Visit The Hype Machine for additional Sun Kil Moon MP3s