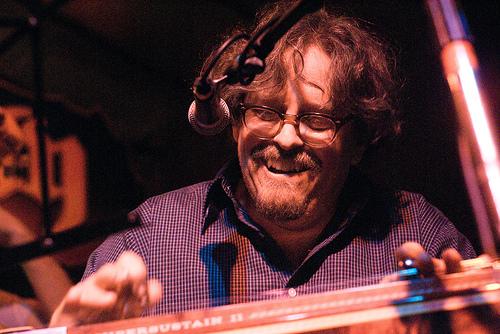 Off The Record is a recurring, feature here on the Drunkard, that marries two of my greatest interests; music and travel. Having a locals perspective when visiting a new locale is the difference between experiencing it through the lens of a tourist and of that of a native.
Off The Record gathers some of my favorite artists, asks them to reflect on their city of residence, and choose a handful of places they could not live without, be them bookstores, bars, restaurants or vistas.
Today we are joined by Jon Rauhouse, pedal-steel poet, and near-prophet in guitar circles. While you may not immediately recognize the name, you most likely know his sound via his work with Neko Case, Kelly Hogan, Calexico, Giant Sand, etc. Here, Jon takes us on a virtual tour of some of his favorite haunts in his hometown of Phoeniz, AZ. His latest LP, Steel Guitar Heart Attack, was released last year on the Bloodshot Records label.
* * * * * * * * * * * * * * * * * * * * * * * * * * * * * * * * * * * * * * * * * * * * * * * * * * * * * * * * * * * * * * * *
Cherry Blossom Noodle Café – I'll start with Restaurants. Far and away the best place to eat in Phoenix is the Cherry Blossom Noodle Café at 914 E Camelback Road. It is pan Asian and Italian cuisine and is fresh and crafted extremely well. Everybody that comes to visit usually goes there more than once a trip.
Durant's – Next is Durant's. an old guy steak house at 2611 N. Central Ave. the best steaks in town and you need a reservation for lunch. Enough said.
Stinkweeds – For Records and CDs you have to go to Stinkweeds at 12 West Camelback. It is the best store to find hard to get stuff and they will try to find anything. They also have great bands do in-stores and help promote shows
Roberto-Venn School of Luthiery – This next one is odd but as a musician that plays a myriad of stringed things I need to get them repaired or built once in a while. Phoenix is lucky to have the Roberto-Venn School of Luthiery located in their fair city at 4011 S 16th St. It is the longest running guitar building school in the US and boasts a faculty that can build and or repair anything. You can visit and check it out or just maybe drop something of to be repaired. Indispensable to me.
Chase Field – Last but not least is Chase Field, home of baseball's Arizona Diamondbacks. As a baseball fan it's a no brainer for my list but it is also a great place to see a game
Download:
MP3: Jon Rauhouse :: East of The Sun (And West of The Moon) (w/ Neko Case)
MP3: Jon Rauhouse :: Big Iron (w/ Kelly Hogan)
———-
Amazon: Jon Rauhouse – Steel Guitar Heart Attack

www.jonrauhouse.com ++ www.myspace.com/jonrauhouse ++ rauhouse @ eMusic

+ Download Jon Rauhouse via eMusic's 25 free MP3 no risk trial offer
————————————————————————————————————————-
+ Visit The Hype Machine for additional Jon Rauhouse MP3s