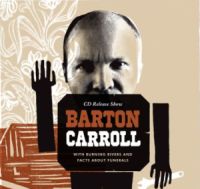 There is always a dearth of new music the last couple of months of the year, so when January finally hits, and the new releases do start rolling out, it's both welcome and, depending of the quality of the release schedule, and the amount, even formidable. Thus far in early '08 we have seen many a fine LP cross our desk, and they just keep coming. One title I want to highlight, based on the strength of his last LP, not to mention its own merit, is Barton Carroll's new full-length The Lost One. Often quiet and contemplative, the former(?) Crooked Fingers guitarist/multi-instrumentalist again lays down an albums worth of tracks rooted in folk music, but this time, buoyed by an increased sense of energy and instrumentation.
Carroll travels the solo road sounding at times like a long lost sibling of Richard Thompson, riffing on the themes of Richard Buckner (sans warble), with maybe just a pinch of Will Oldham. It's a brew that more than a few of you AD readers will want to associate yourselves with.
Download:
MP3: Barton Carroll :: Pretty Girl's Going To Ruin My Life (Again)
MP3: Barton Carroll :: Brooklyn Girl, You're Going To Be My Bride
———
Amazon: Barton Carroll – The Lost One
www.bartoncarroll.com ++ www.myspace.com/bartoncarroll++ eMusic
+ Download Barton Carroll via eMusic's no risk 25 Free MP3 trial offer.
————————————————————————————————————————–
+ Visit The Hype Machine for additional Barton Carroll MP3s.