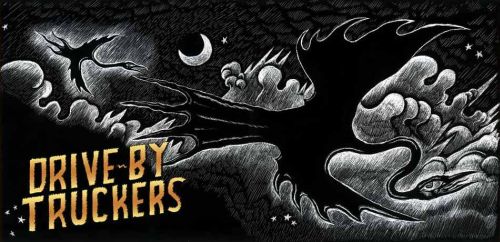 Drugs, desperation, suicide, Alabama-born bed-time stories, and quirky southern character studies — a little bit country and a whole lot of rock 'n roll. In other words, a Drive-By Truckers album. Tomorrow, the Truckers will release their seventh LP, Brighter Than Creation's Dark, the first DBT album since the departure of guitarist/songwriter Jason Isbell (who came on board after 2001's Southern Rock Opera). Also noteworthy is the return of Athens' resident pedal-steel wiz John Neff (Japancakes, Star Room Boys) as a full-time member, not to mention the charms of veteran Southern session legend Spooner Oldham. In Isbell's stead, Truckers bassist, Shonna Tucker's songwriting and vocal duties are highlighted; here she has three songs alongside Patterson Hood's nine contributions and Mike Cooley's seven.
A sprawling affair at 19 songs, Brighter Than Creation's Dark may, at least initially, lose the casual listener reared on the iPod and the quick fix. Their loss as this is without a doubt the Truckers best work since Decoration Day. Dense, nuanced and textured, the album flirts with various genres ranging from country & western, r&b, southern rock, and Sixties soul. Per usual, the band distills these influences, and more, into their own brand of Southern gothic storytelling all the while ultimately (now a decade into their career) sounding like themselves. And we're glad for it.
Due, at least in part, to its length, the album, despite the rockers, has a somewhat rolling, laid back, quality to it that I predict will only add to its strength as the years wear on. It has legs.   There is just no digesting this album within the span of four weeks, or more likely, four months. This is in sharp contrast to that band's last album, 2006's (albeit underrated) A Blessing And A Curse, whose pace and style rarely let up for a breath.
For a band who first won national acclaim for their double album "rock opera" based on the intricacies, eccentricities, and, above all, the duality of the South, the Drive-By Truckers have firmly etched themselves into the very fabric of her music. And she's better for it.

Related: Off The Record :: Patterson Hood (Athens, GA)

Download:
MP3: Drive-By Truckers :: Two Daughters And A Beautiful Wife
———-
Amazon: Drive-by Truckers – Brighter Than Creation's Dark
www.drivebytruckers.com ++ new west ++ www.myspace.com/drivebytruckers
+ Download Drive-By Truckers via eMusic's 25 free MP3 no risk trial offer
———————————————————————————————————————
+ Visit The Hype Machine for additional Drive-by Truckers MP3s