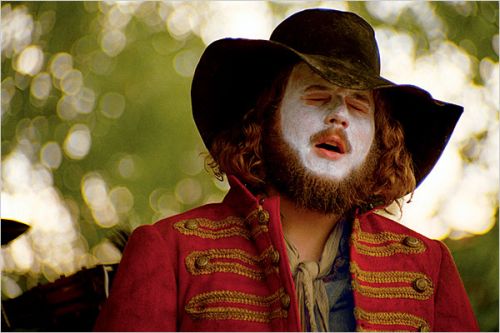 Off The Record is a recurring, feature here on the Drunkard, that marries two of my greatest interests; music and travel. Having a locals perspective when visiting a new locale is the difference between experiencing it through the lens of a tourist and of that of a native.
Off The Record gathers some of my favorite artists, asks them to reflect on their city of residence, and choose a handful of places they could not live without, be them bookstores, bars, restaurants or vistas.
Today's installment of Off The Record catches up with My Morning Jacket's Jim James. With the band gearing up to release their follow-up to 2005's Z, and live dates set for the Spring/Summer, it felt like a natural time to catch up with James to find out what specific locales, in his hometown of Louisville, KY, he'll miss the most when the band begins touring behind the new LP. Below are fifteen that fit the bill.
My Morning Jacket's Jim James' Top 15 Things About Louisville, KY
1. Joe Creason Park: "Trouble be increasin' at the Creason" used to be our motto as kids. We used to buckle, play shock, drink wine in the woods, and do all sorts of other misfit activities here as young'n's, now I just go there to walk and be healthy and pretend it is my own private yard. Boring. Joe Creason Park, located right across the street from the Louisville zoo, is totally sweetpickles.
2. Caufields Novelty: This is a sweet costume store, we buy soooo many goofy stage props and decorations from them, we should own stock – home of the world's largest bat (like Dracula), which is right down main street a few blocks away from the world's other largest bat:
3. Louisville Slugger Museum: Home of the world's largest bat, which happens to be down the street from another of the world's largest bat's. You can get your name engraved on a sweet bat here. I have a bat with my name on it, but I want one that says: "sweetpickles" on it. Maybe I can get a signature series…hopefully someone will read this and answer my prayers.
4. Brandon and Drew's Back Yard: My buddies, Brandon and Drew, live together and they have a sweet backyard. My other buddies, Will and Mike, used to live in the same apartment, and we would have bonfires and lawn Olympics in their backyard. When they said they were moving out, we knew someone had to inherit the yard, so Brandon and Drew moved in. Once we listened to "Dancing in the Moonlight" there like 137times in a row. Another time we listened to "Be Thankful For What You Got" there like 859 times in a row and it was raining and my boombaucks 2 got ruined, which turned out to be sweetpickles, cuz now I have boombaucks 3 – and he is waterproof. Once there was a party next door where the only items of clothing you were allowed to wear were baby diapers and duct tape. This, my friends and neighbors, is one sweet ass yard.
5. My Old Apartment: My old apartment was really sweet. It was my fave apt. ever – and the first place I ever lived by myself – without roommates! It had a back porch, and I could blast my stereo as loud as I wanted till 9 in the morning, until the weightlifter moved in. I vested many opponents and taught many lessons in original NES ice hockey up inside that place. I lived there for 5 years, and just moved out a few months ago…sigh…I had some sweet times up inside that place, but like all good things it had to come to an end…sigh….
6. Ramsi's Cafe On The World: This is one of the best places to eat in the world. I have had the luck and good fortune to be able to have dined at many establishments all over this wide piece, and without a doubt Ramsi's Cafe On The World is among the best. I recommend the cubean burrito. It is sweetpickles!
7. Joe Ley Antiques: A big crazy funhouse of an antique store. Old remnants of fountain ferry amusement park, costumes, furniture, coffins, records, axes, Col. Sanders body preserved – you name it, they got it, and its old and dusty and scary.
8. The Widow's walk ice cream parlor/falls of the Ohio: From this vantage point in Indiana, you can look across in wonder at one of mother natures most scenic miracles: Louisville, KY… and wonder where the falls fountain is now. You can also sample one of many fine ice creams.
9. The Old Cardinal Stadium: This is a sweet old stadium that makes you feel like you are still in the 70's. we saw Alice Cooper and Kool And The Gang there this summer at the KY state fair. I saw the Beach Boys there when I was a kid and got a free Zagnut candy bar! Sweetpickles!
10. The Rathskeller at the Seelbach Hotel: This is my favorite rathskeller I have ever seen! There are pelicans on the poles that watch you explore and it is all made out of tiles and echoes. God built it with his love for you in mind! A little known secret!
11. The Palace Theatre: A beautiful old theatre with a great personality. It makes you feel like you are outdoors, under a starry sky. There is a name for this type of theatre, which I was told by the man who runs the Loews in jersey city (a different but equally cool, big scary spaceship style theatre) but I cannot remember it. People have a bad habit of tearing down cool theatres like this so they can put up parking lots, but I'm really glad they saved and restored this old gal. Way to go Louisville! If anyone ever wants to tear her down again they'll have to go thru me first. You and what army?
13. Waterfront Park: They used to store a bunch of salt down on the waterfront, but now we have a really nice park where you can walk around and ride bikes and create memories. I really like salt, but I think i like the park better. This is a really great place to view thunder over Louisville!
14. Thunder Over Louisville: This is the biggest fireworks display in the world, culminating in the fearsome "gargantuan:" the world's largest fireworks explosion in the Midwest. This is a special day every year around derby where all Louisvillians take to the streets and exist together as one beautiful people, realizing that we are all created equal in the eyes of whatever made everyone…all in the great outdoors…unless you just stay home and watch it on TV. Ahhh…..thunder.
15. Cave Hill Cemetery: This is the oldest cemetery in the world. And the most beautiful. And there is a very vaginal cave there that is where all the world started and where it will end someday too. It is inside a hill. We will all go back up inside it to the great-here-after! It is so totally sweetpickles!