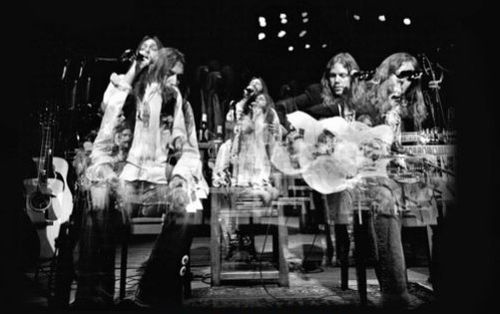 If you've followed the AD blog over the past few years, you're aware I am somewhat of a Black Crowes freak. Granted, I grew up in Georgia, which means I may very well be pre-disposed to the condition. Nevertheless, the recent news of the band gearing up to release, Warpaint, their first album since 2001's Lions, coupled with the announcement that the band plans on performing the album, in its entirety, at this year's SXSW, has us enthusiastically digging into the Crowes catalog.
An out lier in the (proper) Crowes canon – that received little, to no, fanfare upon its release – is Chris & Rich Robinson's, live disc, Brothers of A Feather, recorded here in Los Angeles during the brothers three-night stint at the Roxy a couple of years ago. A laid back and, ostensibly, laissez faire, acoustic series of shows, the disc gathers up 14 tracks culled from the evenings on one disc: some Crowes standards, some solo material and some very choice covers. One such cover is John Martyn's excellent "Over The Hill," from 1977, which, besides being a longtime AD favorite, feels incredibly natural in Robinson's capable hands. If you're of the Crowes faithful, this set is easy like Sunday morning.
Download:
MP3: Chris & Rich Robinson :: Over The Hill (John Martyn cover)
MP3: Chris & Rich Robinson :: Horsehead
—
MP3: John Martyn :: Over The Hill (highly recc'd)
———
Amazon: Chris & Rich Robinson – Brothers of A Feather (Live)
+ Download your music DRM free via eMusic's no risk 25 Free MP3 trial offer.
———————————————————————————————————————–
+ Visit The Hype Machine for additional Black Crowes MP3s.