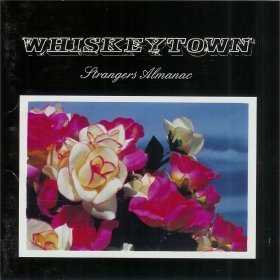 Come March 4th, Whiskeytown's second album, 1997's Strangers Almanac, is getting the deluxe, two disc reissue treatment. This marks the first Whiskeytown release since the posthumous 2001 release of Pneumonia, the band's final studio album. No Depression dot net has the details — check it out:
Disc one of the set will feature the original album plus five tracks recorded live on Los Angeles radio station KCRW on September 10, 1997. Three of those tracks are album cuts ("Houses On The Hill", "Turn Around", "Somebody Remembers The Rose") and two were not on the album ("Nurse With The Pills", "I Don't Care What You Think About Me").
The 20 tracks on disc two include outtakes and alternate tracks from the Strangers recording sessions and demo sessions. A few of them were issued separate from Strangers Almanac at the time: "Theme For A Trucker", "My Heart Is Broken", and alternate versions of "The Strip" (a.k.a. "Dancing With The Women At The Bar") and "Houses On The Hill" comprised a double 7-inch gatefold release by Bloodshot Records in early 1997, and "Ticket Time" and Alejandro Escovedo's "The Rain Won't Help You When It's Over" were on a limited-edition bonus EP packaged with initial pressings of the Strangers Almanac CD.
Aside from "The Rain Won't Help You", other cover songs on disc two include Fleetwood Mac's "Dreams", Gram Parsons' "Luxury Liner", and a Ryan Adams solo version of Johnny Cash's "I Still Miss Someone".
Previously unreleased outtakes from the Strangers sessions featured on Disc Two include "Kiss & Make-Up", "Indiana Gown", "Barn's On Fire", "Whispers" (a.k.a. "Streets Of Sirens"), "Breathe", and "10 Seconds Till The End Of The World".
Disc two also includes alternate studio versions of Strangers tracks "Excuse Me While I Break My Own Heart Tonight", "16 Days", "Somebody Remembers The Rose", "Avenues", and "Turn Around"." (via)
* * * * * * * * * * * * * * * * * * * * * * * * * * * * * * * * * * * * * * * * * * * * * * * * * * * * * * * * * * * * * * *
And……we're back. The majority of the additional tracks – noted above – have been widely available online, and in trading circles for years. Most of disc two is made up of tracks that Adams had been quoted as saying were to be part of an album entitled Those Weren't The Days, which would have been the link, stylistically, between the Faithless Street and Strangers Almanac records.
Below are the four studio tracks from the unreleased Those Weren't The Days album that will not be featured on the upcoming Strangers reissue. Note: Three of the Those Weren't The Days tracks ("Empty Baseball Park," "Here's To The Rest of The World," "Factory Girl") were previously cribbed for the 1998 reissue of the Faithless Street album.
Download:
MP3: Whiskeytown :: San Antonio
MP3: Whiskeytown :: All You Can Feel
MP3: Whiskeytown :: New York Angel
MP3: Whiskeytown :: Only To Lose
———-
Pre-order: Whiskeytown :: Stranger's Almanac (Reissue)