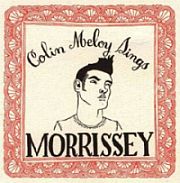 While I've never been accused of being an avid Decemberists fan, I am a Smiths/Morrissey pundit, and think The Decemberists principle songwriter Colin Meloy released a genuinely great EP of Mozzer covers – back in 2005 – while doing a solo acoustic tour. Both his style and vocal approach were perfect for the, for the most part, lesser known Morrissey tracks he covered throughout.
Meloy followed this up, a year later, with with his tour-only EP Colin Meloy Sings Shirley Collins, and has now stated that fans can expect a Colin Meloy Sings Sam Cooke EP at the merch table during his upcoming solo Spring tour. So to tally up: I really liked the Morrissey set, the Shirley Collins set was an enjoyable curio — but, I have to say, I could not be more skeptical of this forthcoming set, as the adjective "soulful" is one I would never associate with Meloy. Guess we'll find out this Spring.
In related news, this April, Meloy is set to release his first live album, entitled Colin Meloy Sings Live!, covering the Smiths, R.E.M., Pink Floyd, Fleetwood Mac, and Shirley Collins (via).
Download:
MP3: Colin Meloy :: Jack The Ripper (Morrissey cover)
MP3: Colin Meloy :: Pregnant For The Last Time (Morrissey cover)
———–
www.decemberists.com ++ www.myspace.com/thedecemberists ++ eMusic
+ Download DRM free music via eMusic's 25 free MP3 no risk trial offer
————————————————————————————————————————-