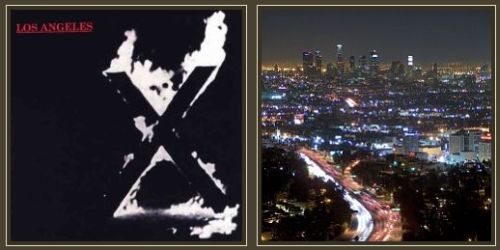 Occasionally, while driving through L.A. with X's debut, acting as the soundtrack, I wonder just what Los Angeles would have been like, musically speaking, back during the band's early-mid Eighties peak. Besides X you had the cross-pollination of The Blasters, Dave Alvin, the Knitters, the whole Paisley Underground 'movement', not to mention a young Dwight Yoakam hustling in the Hollywood rock clubs – opening up for punk bands – because Nashville wouldn't touch him. Certainly sounds like an interesting place to be.
Local Scene: This Spring X will be embarking on their "31st Anniversary Tour" featuring all original members (John Doe/Billy Zoom/Exene Cervenka/DJ Bonebrake) April 10th @ The Music Box @ the Fonda / Doors: 8 pm / $27 / On Sale 2/9
++ Click here, and scroll down, for some X videos from the Unheard Music DVD..
Download:
MP3: X :: Adult Books (Demo)
MP3: X :: Your Phone's Off The Hook, But You're Not
———-
Amazon: X – Los Angeles
+ Download your music through eMusic's 25 Free MP3 offer.
—————————————————————————————————————————
From Unheard Music – X plays "Soul Kitchen" live w/ Ray Manzarek interview.