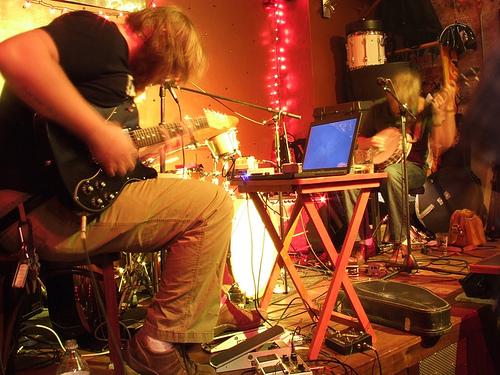 Alright, I can almost guarantee that regular AD readers will be into the following tunes; and hey, now that we've installed the streaming media player, you may as well stream a track…you know, save yourself that 20 seconds of downloading, and get your preview on.
Megafaun, which I misread as Mega"fun" several times last week (and almost, live, while on the air), are a North Carolina based band that call the Research Triangle home. Already an indie bedrock (insert your favorite Chapel Hill/Raleigh/Durham band here), the Triangle appears to be having a musical renaissance of late, and Megafaun are certainly a part of it. While it may have been the band's connection to Bon Iver (former bandmates) that initially caught my eye, it was "Find Your Mark's" seventies-leaning, expansive, pop sensibilities that drew me in.
"Lazy Suicide," with its anxious spoon clattering, rusty banjo, desperate vocals, and sub rosa guitar lead comes from a different space entirely. Ostensibly drawing on the Triangle's rural surroundings, the track sounds like some kind of long lost 16 Horsepower outtake. Great stuff. The band is set to release their six song EP, next week, via the Table of The Elements label.
SXSW: If you're heading to Austin next month for the indie rock hoedown that is South By Southwest, Megafaun have, at present, three dates lined up in support of Akron/Family.
Download:
MP3: Megafaun :: Find Your Mark
MP3: Megafaun :: Lazy Suicide
———-
Pre-order: Megafaun – Bury The Square
www.myspace.com/megafaun ++ www.myspace.com/tableoftheelements

+ Download DRM free music music via eMusic's 25 free MP3 no risk trial offer
———————————————————————————————————————————