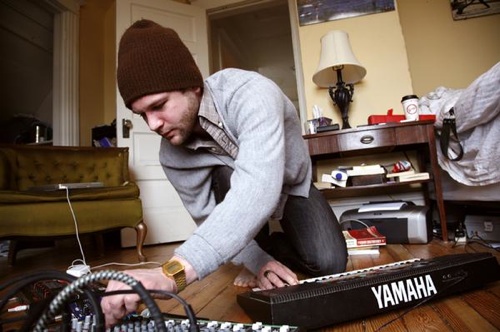 Off The Record is a recurring feature, here on the Drunkard, that marries two of my greatest interests; music and travel. Having a locals perspective when visiting a new locale is the difference between experiencing it through the lens of a tourist and of that of a native.
Off The Record gathers some of my favorite artists, asks them to reflect on their city of residence, and choose a handful of places they could not live without, be them bookstores, bars, restaurants or vistas.
Today's Off The Record touches down in California's Half Moon Bay, the former hometown of Throw Me The Statue's, Scott Reitherman, prior to his move north, to Seattle, three years ago. TMTS's latest LP, Moonbeams, was released this week via our friends at Secretly Canadian.
* * * * * * * * * * * * * * * * * * * * * * * * * * * * * * * * * * * * * * * * * * * * * * * * * * * * * * * * * * * * * * *
Favorite things about a hometown: Half Moon Bay, CA.
WALKS: Taking the dogs along the bluff at Surfer's Beach in El Granada, next to Pillar Point Harbor — truly restorative. Also, taking the dogs across the street to the open space that people have tried to develop into houses, shopping centers and driving ranges but which remains successfully protected open space that spreads out to the coastal highway. I once thought that I'd like to lose my virginity in those fields but despite sentimental planning that didn't play out.
VIEWS: On top of the bluff at mavericks where the giant air force satellite dishes used to perch and you can see Hwy 1 divide the foothills from the coastline. If it's one of our rare sunny days you usually can watch the old painted biplanes buzz around lazily.
DRIVES: I always love driving around my little nook of El Granada looking at the houses, thinking about the various forts we would build as kids in the different parts of the woods that wrap around the neighborhood. The windy irregular streets that climb up El Granada Mountain are fun because up there you find the funkier modern houses with the more expensive views of the ocean. Also, heading south on hwy 1 towards Pescadero. I read that the guy in the Ruby Suns named his record after the sea lion preserve which you pass if you head down this way. A very epic drive.
THRIFT STORE: I don't know the name, but its across from the middle school and is run by local seniors whose organization gets the store's profits or something. But they can have some good finds. Also, next to the liquor store where we used to rent movies there's the El Granada Thrift Store and they usually have some ok stuff.
SANDWICH: It's no secret. San Benito House Deli hands down makes my favorite sandy in the world. Fresh baked bread is the key ingredient here, fluffy and of the whole wheat or white variety — you really can't go wrong. Run by a German woman with a bunch of blue eye shadow who has written books on camping your way through Europe.
COASTAL ART: I always find it hilarious to walk around main street and see the local galleries with all their paintings of pelicans and otters and that kind of crap. I really dislike that cheesy coastal art which I've seen so much growing up, but who knows maybe one day I'll soften up in old age and really want that kind of junk over my fireplace.
BURRITO: I really miss good burritos living in Seattle. Worst thing about leaving California is not having those burritos. But my favorite has always been Tres Amigos. It used to be even more wonderful atmosphere which is unfortunate. It was once covered in murals of Mexican daily life and vistas and such, but they've now opted for a remodel which has tarnished the vibe. With that said, the burritos are still excellent and at least the new plasma that hangs in the corner always has the futbol on.
Download:
MP3: Throw Me The Statue :: Your Girlfriend's Car
MP3: Throw Me The Statue :: Lolita
—
MP3: Throw Me The Statue :: About To Walk (off the About To Walk EP)
——
Amazon: Throw Me The Statue – Moonbeams
myspace.com/throwmethestatue ++ www.secretlycanadian.com ++ www.baskervillehill.com
+ Download Throw Me Thee Statue via eMusic's 25 free MP3 no risk trial offer
—————————————————————————————————————————