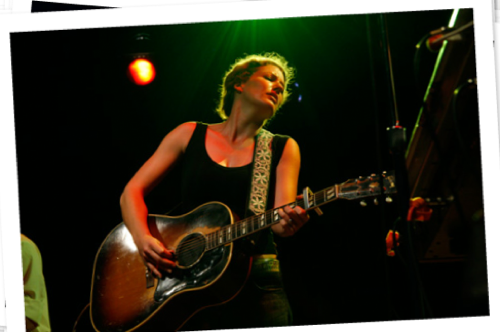 If you somehow manage to avoid the sophomore slump in music, all eyes immediately shift to see if there's the junior jinx. Kathleen Edwards avoided that slump by creating a more nuanced and textured version of her debut with Back to Me in 2005, but you can only reshuffle the same deck so many times. Her third album, Asking for Flowers, plays down the rockier elements of her first two albums in favor of a more maudlin, less insular set of songs that add up to a tremendous album, even if none of the individual songs match her past high points.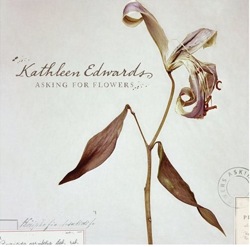 The album opens with "Buffalo," a spare, piano driven song at the outset, further pushing the more maudlin feel of the record – a far cry from her first two album's twin firecracker openers of "Six O'Clock News" and "In State." Quietly squeaking piano pedals pulse under the opening chords as Edwards sings: "The summer months left me alone…have you ever seen lightning and snow?" The often chaotic nature of relationships in Edwards' first two records here are dampened by a turn outward, an attempt to look up and out that dominates a good third of the album. The gorgeous title track and "Oil Man's War" pick up the voice of narrators outside of Edwards. They experience crippling depression and mental issues ("Asking for Flowers") and a pair of people who flee from having to fight in the Iraq conflict ("Oil Man's War"). While Edwards has put herself in other's shoes before, this is a more intense exploration of that idea.
"Alicia Ross" and "Oh, Canada" represent a sharp tandem of songs that show Edwards casting a culturally critical eye at her own country and does so in a way that is an honest and impressive examination of duality. To some extent, Alicia Ross was Canada's Natalie Holloway, a younger white girl who goes missing and sets off a media rampage about her whereabouts. (In Ross' case, however, it was eventually solved – her neighbor had killed her and taken the body 70 some miles away.) The song is written from the late girl's perspective and is a trembling, beautiful song that is relatively haunting given the actual events that inspired it. Then, five tracks later, "Oh, Canada" eviscerates the very system that documented Ross' disappearance in the first place, replicating a complaint often heard about media here in the States: "We don't say it out loud / There are no headlines / When a black girl dies / It's not the lack of a sense / It's called ambivalence." The two sentiments are a paradox – a seeming contradiction that actually holds a solid truth and it's a powerful thematic punch.
Edwards' clever songwriting turns up in spades across the album as well. "The Cheapest Key" is the most like her earlier work, a piano-driven bar rocker that explodes with self-referencing lines: "F is my favorite letter, as you know" she sings, referencing her infamous foul mouth and "Don't get me wrong / Here comes my softer side / and there it goes," accented with a tinkling piano run to represent the brevity of the moment. "I Make the Dough, You Get the Glory" makes all sort of amusing metaphorical pairings to illustrate the title pair's situation (Fogerty vs. Elvis in the 70s; Ford Tempo vs. Maserati, etc.). Her barbs for commercial success aren't any less present either. Echoing the tones of her debut's "One More Song the Radio Won't Like," the song snipes: "Heavy rotation on the CBC / whatever in hell that really means."
While there are no songs that immediately rival "Independent Thief" or "Summerlong" on this album, there are two that make a serious dramatic impact. "Run" starts off as a slightly funky keyboard riff that soon develops into one of the album's most haunting vocal choruses and "Goodnight, California" closes the album with more than six minutes of haunting, string laden melancholy. It gives a long goodbye to an album that certainly begs, nay, insists on moments of reflection, lyrically and musically.
My initial listens to this album yielded the opinion that it was good, but not as good as prior ones, but songs buried themselves in my head and wouldn't let go. As the listens racked up, the album revealed itself more and more to be deeper and better than I'd thought. Ironically the most immediate moments on the album ("The Cheapest Key" and "I Make the Dough..") end up being almost out of place among the rest of the album. They serve as buoys along the way, balancing the heavy moments with lighter ones and ultimately creating something worth repeat listens. I'm a bit biased – I've been a huge fan of Kathleen Edwards since day one – but Asking for Flowers could be her finest moment yet. I just have to keep listening to find out. And ultimately therein may lie the answer to how good this record is – the fact that I just want to keep listening again and again. – J. Neas

Download:
MP3: Kathleen Edwards :: The Cheapest Key
MP3: Kathleen Edwards :: Asking For Flowers
————-
Amazon: Kathleen Edwards – Asking For Flowers
www.kathleenedwards.com ++ www.myspace.com/kathleenedwards ++ eMusic
+ Download DRM free music via eMusic's 25 free MP3 no risk trial offer
———————————————————————————————————————————