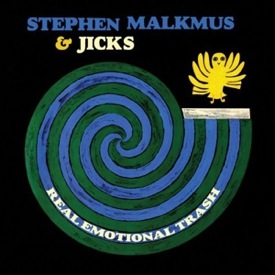 God bless the "event album." Each year I can (usually) look forward to a few of these by some of my favorite artists. Even now, in the era of instant-everything, a new album, from someone whose work I have been following for years, instills a sense of anticipation and urgency. Stephen Malkmus is one such artist.
Real Emotional Trash marks the 4th "solo" project since Malkmus shuttered the Pavement doors following 1999's Terror Twilight — notably, it also marks the second release to tout the "& the Jicks" moniker. Instrumentally loose, Trash immediately feels like the more natural follow-up to 2003's Pig Lib (the last LP that gave The Jicks co-billing) than 2005's Face The Truth, which was primarily a Malkmus helmed solo project from his (then) recently completed home studio. A rock & roll album, like Pig Lib, Trash feels like a band stretching out in the studio, jamming on solidly road tested material. Depending on how you like you Malkmus, or in a broader sense, your rock records, this is either good, or bad.
Not unlike the last time I saw the band live (see bottom of post), I predict Real Emotional Trash to be quite divisive amongst the Malkmus faithful, as now, both the live show and the album are prone to "jamminess" with a clear emphasis on extended instrumental excursions and experimentation. As someone who enjoys such undertakings, I'm digging both the live experience, and the recorded one, but have friends (who count themselves as longtime Pavement/Malkmus fans) who feel the exact opposite. Those expecting the tighter, punchier Malkmus musings of the past, with no interest in the artist stretching his legs, may get lost in the album's 55 minutes. Here at the AD offices, we're on board, enjoying it, and ready for the next live show.
+ Below are the two Matador approved MP3s off the new record…

Download:
MP3: Stephen Malkmus & The Jicks :: Cold Son
MP3: Stephen Malkmus & The Jicks :: Baltimore
———
Amazon: Stephen Malkmus & The Jicks – Real Emotional Trash
* * * * * * * * * * * * * * * * * * * * * * * * * * * * * * * * * * * * * * * * * * * * * * * * * * * * * * * * * * * * * * * *
Stephen Malkmus & The Jicks :: Nine (Unreleased) Live Jams

A big thank you to Matt Picasso for originally sharing these (previously) unreleased, live Malkmus tracks (and then later re-hooking me up after I promptly lost them.) The sound quality on these is fantastic. Update: big thanks go to the taper, YLTFAN, for his work. The entire, uncompressed, show can be found at dimeadozen.
The following nine tracks are culled from The Jicks January 20th 2007 gig in Portland during their winter tour. I was at the tour's kickoff show at Bimbos, in San Francisco, a couple of weeks prior, and the place got nuts. Malkmus strolled on-stage sporting a straight up bandito mustache and led the band through an improvised, fuzzed out, jammy two hour set.
**To see said Malkmus 'stache — and the band performing "Pencil Rot" — that night, click HERE. You can also catch a bit of Janet Weiss killing the drum kit.
Previously: Stephen Malkmus :: New Album News/Pig Lib EP

Download:
MP3: Stephen Malkmus :: Real Emotional Trash (live)
MP3: Stephen Malkmus :: We Can't Help It (live)
MP3: Stephen Malkmus :: Dragonfly Pie (live)
MP3: Stephen Malkmus :: Merry Go Round (live)
MP3: Stephen Malkmus :: Baltimore Again (live)
MP3: Stephen Malkmus :: Walk Into A Mirror (live)
MP3: Stephen Malkmus :: Pennywhistle Thunder (live)
MP3: Stephen Malkmus :: Hopscotch Willie (live)
MP3: Stephen Malkmus :: Wicked Wanda (live)
———
www.stephenmalkmus.com ++ www.myspace.com/stephenmalkmus ++ www.matador.com
+ Download Malkmus tunes via eMusic's 25 free MP3 no risk trial offer
—————————————————————————————————————————————