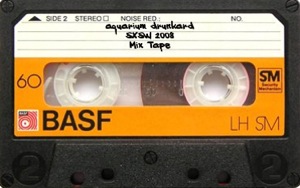 Yes folks, it's almost that time of year again; one marked by BBQ, tex mex, margaritas, ice cold, Lone Star tall boys, and oh yes, music. SXSW.
With thousands of bands descending upon Austin, March 12th through the 16th, it's helpful that the festival's official website offers up, along with the artist's bio, an MP3 (when available). But even then it can be a daunting task to wade through them all. Not to worry, though, Team Drunkard has perused the lists and wrangled up a series of SXSW 2008 mix-tapes for your downloading needs. Drunkard approved, these are made up of bands we've seen in the past, or plan on seeing next week. (see the entire official SXSW artist list here). Part 2 of 3.
**Also, if you have not yet done so – RSVP to our SXSW day party (Fri/Sat) HERE…
Download:
MP3: Jens Lekman :: The Opposite Of Hallelujah
MP3: Lightspeed Champion – Galaxy Of The Lost
MP3: Evangelicals :: Skeleton Man
MP3: Everest :: Trees
MP3: Foreign Born :: Union Hall
MP3: My Brightest Diamond :: Disappear
MP3: Kaki King :: Pull Me Out Alive
MP3: Langhorne Slim :: Restless
MP3: Danile Lanois :: Here Is What Is
MP3: Minipop :: Like I Do
MP3: Lucero :: The Mountain
MP3: Madeline :: I Do What I'm Told
————–
www.sxsw.com ++ www.thehotfreaks.com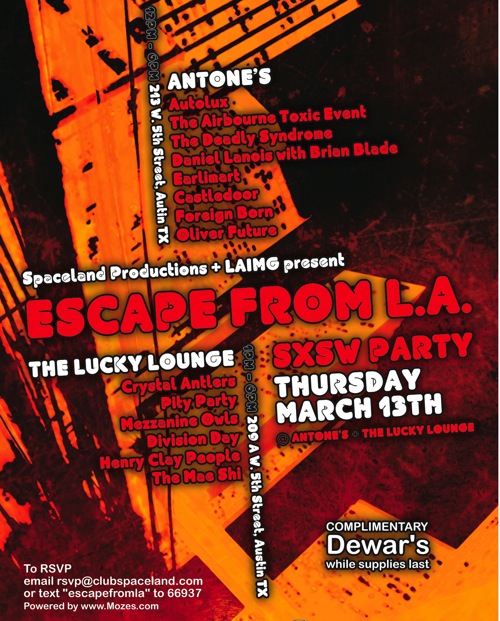 If you want to hit up an event with a solid dose of LA music, check out the above flyer. Also works if you are from here, find yourself in Austin, and get homesick for Spaceland.
+ Download your digital music via eMusic's 25 free MP3 no risk trial offer
——————————————————————————————————————————-