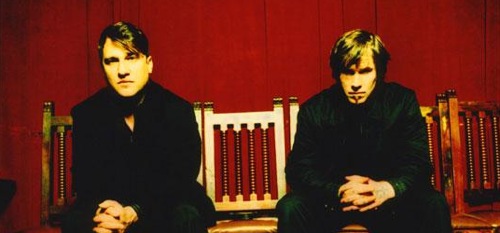 Super group or side project: different sets of expectations accompany either term. The super group is always hoped to be something akin to the sum of its parts and rarely meets them. The side project is often assumed to be tossed off and spur of the moment, so if they end up being fantastic, it's a great surprise. So what to expect from something that can easily invite both terms? Let's give it a shot.
The long awaited Gutter Twins album, Saturnalia, is the output of a super group. Combining Greg Dulli (ex-Afghan Whig, current Twilight Singer) and Mark Lanegan (ex-Screaming Tree, and variously member of Queens of the Stone Age and album-partner of Isobel Campbell) is a beautiful thing on paper. They get reunited on Sub Pop, the label where both started their careers and following Lanegan's contributions to a 2006 Twilight Singers EP, all manner of expectations had to be raised.
Okay. One more time.
The long awaited Gutter Twins album, Saturnalia, is the output of a side project. Combining Greg Dulli (whose main gig is the Twilight Singers) and Mark Lanegan (who has being riding on his own from project to project) sounds like a great time. All manner of guests drop in (Martina Topley-Bird, Jeff Klein, Petra Haden, Joseph Arthur, Troy Van Leeuwen) giving it the sort of freewheeling feel of a fun, enjoyable piece of work.
So which is more accurate? A little of A and a little of B is the unsatisfying answer. My expectations were astronomical for this album and, in that respect, it doesn't deliver. But is it a good album? Very much so.
Anyone who has spent any time listening to the recent Twilight Singers output is going to find something to enjoy in this album. A lot of the songs resemble the most recent Singers output (especially Powder Burns, but also Blackberry Belle) just with the delicious new underpinning of Mark Lanegan's rumbling, power of a voice. As a juxtaposition for Dulli's raspy, seductive howl, it's a fantastic match-up. Opener "The Stations" has Lanegan opening the album, only to be joined soon by Dulli, laying out just what a fantastic match their vocal stylings are, especially in this style of music.
The album varies from smoldering and simmering ("God's Children," "Circle the Fringes") to theatrical, riff-heavy rock ("Idle Hands") and into moody set-pieces ("All Mistery/Flowers," "Seven Stories Underground"). There's also a bit of revisiting of the programmed/non-organic sounding drums from Dulli's latest efforts. "The Body" recalls a good bit of Dulli's Amber Headlights album, as does "Each to Each."
All of these comparisons to Dulli's most recent work make this sound less like a true collaboration musically and more like a Twilight Singers plus Lanegan full-length. And ultimately that's both good and bad. Good because it's wonderful to hear – the work they did together on the 2006 EP was pretty exciting and Lanegan's voice fits naturally among the melancholic, city-lights landscape of Dulli's best work. Bad because it feels like there could've been more in the way of attempting something different on the part of both men. Super groups often disappoint because they end up sounding exactly like the sum of their parts, rather than something bigger. And that's why this album might let a lot of people down on initial listens.
Viewed as a simple extension of the 2006 work, however, even if the backing band here isn't the current Twilight Singers lineup, it's a success and stands as a great comparative piece to the Singers' recent work. A good comparison here would be a more moody and ultimately more successful version of the aforementioned Amber Headlights. It and Saturnalia are insightful and unique appendices to the latest part of Greg Dulli's career. Simultaneously it's another in a line of successful projects by Lanegan in the 2000s – a continuing series of enjoyable projects that show a great depth and flexibility in his art. – J. Neas

Download:
MP3: The Gutter Twins :: God's Children
MP3: The Gutter Twins :: Idle Hands
———–
Amazon: The Gutter Twins – Saturnalia
www.theguttertwins.com ++ www.myspace.com/theguttertwins ++ www.thetwilightsingers.com
+ Download your digital music via eMusic's no risk 25 Free MP3 trial offer.
————————————————————————————————————————–