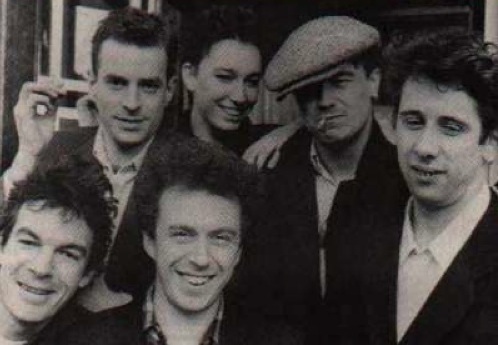 I'm not Irish, but who can't get behind a celebration like St. Patrick's Day? Any day that celebrates a man like Patricius – kidnapped by pirates, banisher of snakes, bringer of drunken holidays – sounds alright to me.
And of course, I always think of the Pogues. There are plenty of great Irish musicians, but Shane MacGowan and company are the ones that always come to mind when I think of the Emerald Isle. I still have hopes to see them before they fade off again – especially now that Philip Chevron was diagnosed last year with throat cancer and hasn't been touring with them.
Steve Lillywhite produced my favorite Pogues album, If I Should Fall From Grace With God. I only started to find this interesting when I started paying more attention to Lillywhite's 80s resumé – specifically his work with Peter Gabriel, Simple Minds, Big Country, U2 and so on. It seemed like such a departure from the Pogues' previous production work (for instance, having Elvis Costello at the helm for Rum, Sodomy and the Lash), but it did net them Lillywhite's wife, the wonderful Kirsty MacColl, as a duet vocalist for the timeless "Fairytale of New York" from that album. So how could I nit pick?
Here are a couple of my favorite songs from If I Should Fall From Grace With God. The story of the Birmingham Six is particularly interesting Irish reading for today. A happy St. Patrick's Day to you all. – j. neas
Download:
MP3: The Pogues :: Thousands are Sailing
MP3: The Pogues :: Streets of Sorrow / Birmingham Six
———–
Amazon: The Pogues – If I Should Fall From Grace With God
+ Download DRM free music via eMusic's 25 free MP3 no risk trial offer
———————————————————————————————————————————–