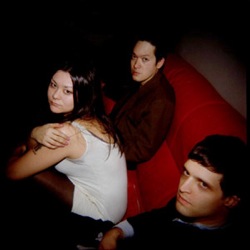 Each month eMusic releases two albums by either unsigned or overlooked bands to give them wider exposure and in this case it paid off. Caught my attention at least.
Susu is a band from Brooklyn, New York, who are channeling some of the noisier ends of the indie-rock spectrum. Everything from Bauhaus' caustic drone to Sonic Youth's detached delivery, from Girls Against Boys' fuzzy disintegration to the breakneck mayhem of the Murder City Devils show up across the EP's nearly 24 minutes. There is a lot of familiar territory here: the guitars, the vocal delivery (Andrea Havis' channeling both Exene Cervenka and Kim Gordon while Michael Andrew brings his Lou Reed/Thurston Moore), the song structures and deconstructures.
Which makes this a perfect album to review given this blog's recent discussions about whether or not music that isn't necessarily moving forward is worth listening to. Susu is the type of band who is further refining a well-established and respected sound. Do they do it well? Well, for a first EP, absolutely. "Anarchitect" opens with the kind of precise, hungry, simmering rock and roll that propelled Greensboro's Tiger Bear Wolf into my Top 25 Albums of 2005 list. It's music that seems unbalanced, chaotic and furious. "Part Bloodhound" sounds almost like a Daydream Nation outtake – not to beat the Sonic Youth comparison into the ground. Havis and Andrew's vocals are a perfect juxtaposition of being detached and frantic – emotionless and distinctly emotive.
The album keeps a pretty even keel throughout, not varying much from its style. For a debut EP, that's fine and, in fact, encouraged. Wild diversity may work over the course of a full-length LP, but on an EP it would just sound unfocused, sprawling and like a mess of single ideas cobbled together to form a short album. It also works in ways that wouldn't work over a work much longer. All the songs even clock in somewhere in the three minute range with the exception of "Hands Up (The Race)," a brooding six-minute song planted firmly in the middle of the EP which combines all of the album's tricks into one cathartic high-water mark.
So, here I'll err on the side of just enjoying this record. If Susu consistently cranks out music like this, it'll be enjoyable, but will lose its novelty over time. But for the moment, it's a great slice of what indie-rock used to sound like distilled down to its essence. – j. neas

Download:
MP3: Susu :: Anarchitect
MP3: Susu :: Get Hip
————-
eMusic: Susu – Win
+ Download Susu via eMusic's 25 free MP3 no risk trial offer
——————————————————————————————————————————–