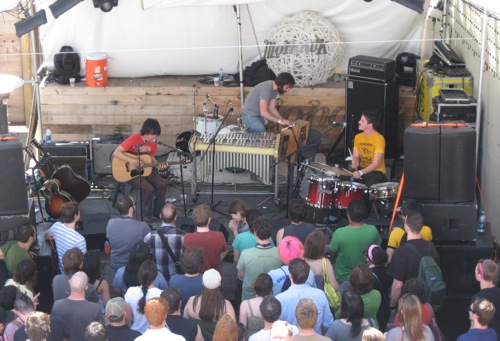 The Dodos – Friday – Opening Set, Hot Freaks (The Mohawk, Outside Stage)
Thursday night, after the Lou Reed tribute wrapped up, we all had Texas BBQ on the brain which was quickly remedied by Ironworks Barbecue, thankfully, just a ten minute walk away. The line moved surprisingly fast, and a good thing, as we had to hustle in order to make it across town to the Austin Music Hall for The Whigs/Yo La Tengo/My Morning Jacket show. The show was great, but we made it an early night as our Hot Freaks shindig began the next morning. You can stream the performances by The Whigs/Yo La Tengo/My Morning Jacket here.
We had two venues (Mohawk/Club DeVille), located next to one another, for Hot Freaks with three stages going simultaneously. That equals a lot of bands, and a lot of running around. Only had the camera with us for about an hour (below: The Dodos and White Denim), but you should be able to find more than enough SXSW photography with a google search, or more likely, a trip down the AD blogroll. Friday artists at Hot Freaks included: The Dodos, White Denim, Blair, Bowerbirds, Nicole Atkins, Evangelicals, Blood On The Wall, Cadence Weapon, Ola Podrida, Blitzen Trapper, Black Joe Lewis, Jens Lekman, Peter Moren, Jason Collett, and British Sea Power.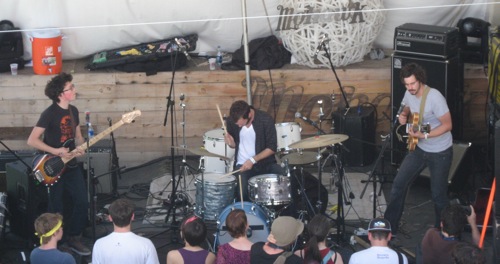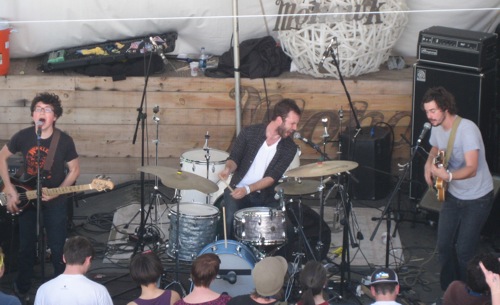 White Denim – Friday – Hot Freaks (The Mohawk, Outside Stage)
Download:
MP3: The Dodos :: Fools
MP3: White Denim :: Shake Shake Shake
+ Download SXSW artists via eMusic's 25 free MP3 no risk trial offer
———————————————————————————————————————————