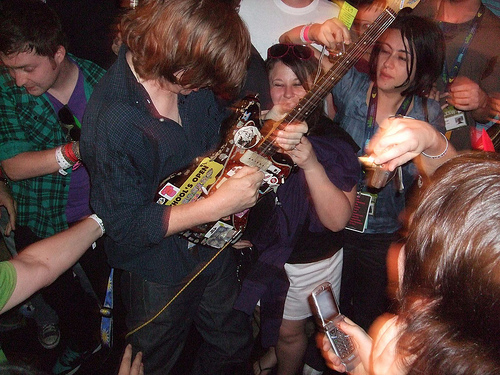 Thurston Moore, in the audience, Thursday, at the Lou Reed tribute (photo: nathan malone)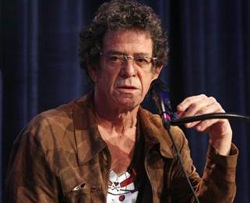 Beginning Thursday morning the typical SXSW blur begins, as it does every year. Lasting through Sunday, until you've stepped foot on your flight back home, the blur consists of too many miles walked, bands watched, faces committed to memory, events overlapping, wristbands stacked and, of course, beers. I wouldn't have it any other way, but when it comes to re-capping the days, let's just say its easier to keep it to the highlights.
Thursday began at the convention center for Lou Reed's keynote address. It's no secret I am a Lou Reed fan, pundit, and apologist so I made sure I was there. Big takeaways? Too many to mention and/or remember here, but I distinctly remember thinking that every other sentence out of the man's mouth was quotable. For example, "I have a BA in dope, and a PHD in soul." The entire hour was like that with Reed either riffing or ripping on topics ranging from his work, his absolute love of the film The Bourne Ultimatum, his hatred of MP3s, fading audio quality and then listing three of his favorite contemporary bands: Dr. Dog, Joan As Policewoman and Holy Fuck.
The afternoon was spent at various day parties, but let's move ahead to the Lou Reed tribute held at the Fader Fort on 4th & Brazos. Thursday's highlight event gathered a number of our favorites in one place, asked them to cover Lou Reed and/or Velvets tunes and put them onstage one after another. Highlights included mini-sets by: Dr. Dog, Yo La Tengo, Maek Kozelek and Thurston Moors, culminating in Lou Reed himself ending the event with "Walk On The Wild Side" backed my Moby, and what appeared to be an impromptu gospel group.
After the band exited the platform, Reed triumphantly took center-stage, grabbed the mic and announced (with arms raised) "I love punk rock." Then, after a beat or two, leaned in and said "and I was the first," before disappearing backstage. Now, I'll be the first to admit that if nearly anyone else made that proclamation I would have most likely rolled my eyes, but with Reed I just cheered along with the rest of the audience. It was fitting, and great. See the video of Reed's performance here.
* * * * * * * * * * * * * * * * * * * * * * * * * * * * * * * * * * * * * * * * * * * * * * * ** * * * * * * * * * * * *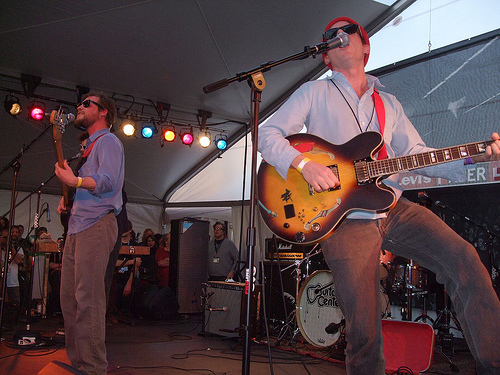 Dr. Dog – Live @ the Lou Reed tribute, SXSW 2008 – Fader Fort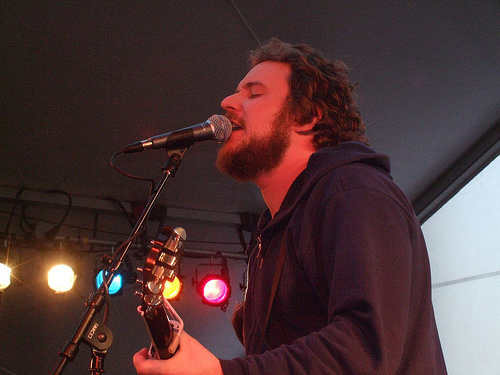 My Morning Jacket – Live @ the Lou Reed tribute, SXSW 2008 – Fader Fort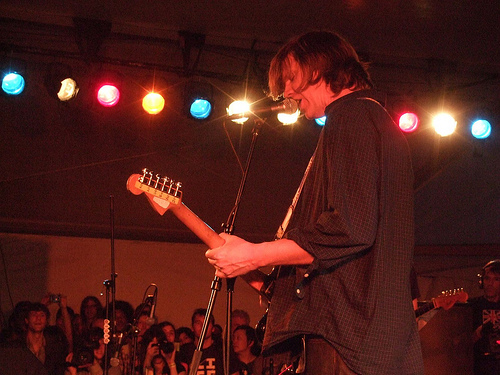 Thurston Moore – Live @ the Lou Reed tribute, SXSW 2008 – Fader Fort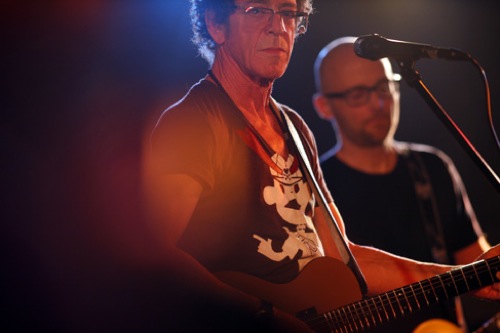 Lou Reed/Moby – Live @ the Lou Reed tribute, SXSW 2008 – Fader Fort
*above photos courtesy of nathan malone, except bottom photo by john francis peters
Video: Dr. Dog – Live @ the Lou Reed tribute, SXSW 2008 – Fader Fort
Video: Lou Reed – Live @ the Lou Reed tribute, SXSW 2008 – Fader Fort
+ Download SXSW artists via eMusic's 25 free MP3 no risk trial offer
———————————————————————————————————————————