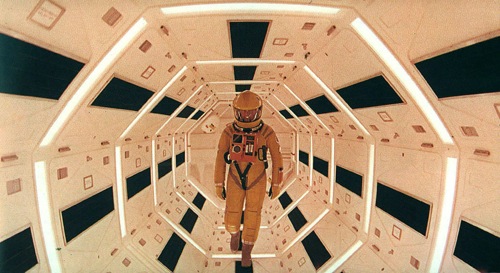 Still one of my favorite films, Stanley Kubrick's 2001: A Space Odyssey both turned me on to its accompanying soundtrack, as well as the works of its author, Arthur C. Clarke, who passed away today, at the age of 90, in his adopted home of Sri Lanka. Excerpts below; read the Associated Press obit, here…
"Arthur C. Clarke, a visionary science fiction writer who won worldwide acclaim with more than 100 books on space, science and the future, died Wednesday in his adopted home of Sri Lanka, an aide said. He was 90.Clarke, who had battled debilitating post-polio syndrome since the 1960s and sometimes used a wheelchair, died at 1:30 a.m. local time after suffering breathing problems, aide Rohan De Silva said.
At a 90th birthday party thrown for Clarke in December, the author said he had three wishes: for Sri Lanka's raging civil war to end, for the world to embrace cleaner sources of energy and for evidence of extraterrestrial beings to be discovered.In an interview with The Associated Press, Clarke once said he did not regret having never followed his novels into space, adding that he had arranged to have DNA from strands of his hair sent into orbit.
"One day, some super civilization may encounter this relic from the vanished species and I may exist in another time." (via)
Download:
MP3: Richard Strauss :: Also Sprach Zarathustra
————
Amazon: 2001: A Space Odyssey – Original Motion Picture Soundtrack
+ Download DRM free music music via eMusic's 25 free MP3 no risk trial offer
———————————————————————————————————————————–