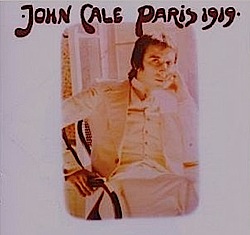 Tuesday, while walking through the hallowed halls of Capitol Records' studios, in Hollywood, surrounded by decades of recorded musical history, I had a conversation with a friend regarding album art: the power it can wield, and its demise over the past 20+ years, thanks to, first, compact discs, and more recently MP3s (guilty). This got me thinking about the relationship between music and its presentation, both visually, and in the sense of the packaging itself. Despite the ease, and immediacy, of digital music I still love the tactile sense of a physical album in my hands, be it vinyl, or, to a lesser degree, the booklet of a CD.
Keeping with the Lou Reed/John Cale kick of late, I am reminded of Cale's 1973 solo LP, Paris 1919; an album I was drawn to, at least in part, because of its cover art. Already a longtime Velvets convert, and Lou Reed fan, I was interested in investigating other VU offshoots, and Cale was top of the list. It was the cover of Paris 1919 that drew me in, with its whitewashed matte finish, and the shot of a pensive Cale, dapper as always, dressed in all white. Between the album's title, its font, and the cover art, my imagination drifted into some sort of Left Bank, early twentieth century, boho-sphere that most definitely influenced my first exposure to the LPs recorded contents.
That being said, now, with digital downloads at an all time high, we have at our disposal an enormity of music, but are consuming it, and therefore appreciating it in a different way. In iTunes, does the albums matchbook size artwork have the power to color our experience with the music? And if so, in what way? I know for certain that a first time listener to CSN & Y's album Deja Vu, via MP3, will never know the marbled, cardboard feel of that album's jacket, which, 15 years ago, colored my perception of the music before the needle even touched the vinyl for the first time.   That, dear reader, is something I miss.
In the comments: Hit us up with albums that you were either drawn to via the cover art, and/or albums whose artwork, in some way, affected your listening experience.

Download:
MP3: John Cale :: Child's Christmas In Wales
MP3: John Cale :: Paris 1919
———–
Amazon: John Cale – Paris 1919 (Reissue)
+ Download DRM free music via eMusic's 25 free MP3 no risk trial offer
——————————————————————————————————————————–