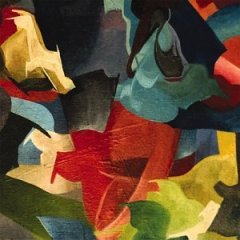 Has it really been an entire decade since the Olivia Tremor Control released their Black Foliage album? Almost, as the album hit retail shelves in 1999. Sonically both an epic, psychedelic collage, as well as a reverent paean to Sixties pop, Olivia Tremor Control created records that begged for your headphones. Below, AD contributor J. Neas reflects on the construction of Black Foliage compared to OTC's ambitious debut Dusk At Cubist Castle. – AD
OTC's Dusk at Cubist Castle – a menagerie of pure pop mixed with musique concrete and soundscapes – was not like much anything else I had ever heard. When I got around to Black Foliage, their second (and last) album, I found myself even more amazed. Where does Black Foliage go that ..Cubist Castle didn't? Let's look. First, there's the production. While there has always been a purposeful lo-fi haze to OTC's work, here there are tracks that sound (and I mean this as a complete, worshipful compliment) positively A.M. radio. There's a distance to the sheer pop that comes pouring out in "Hideaway" and "A Peculiar Noise Called 'Train Director'." And yet this music transcends that separation. "Hideaway"'s horns and endless background harmonies are one of the most relentlessly infectious things the band ever put to tape. The album is full of these moments.
But a quick math problem. There are 27 tracks on this album, only 16 of which would be considered "songs." So wither the 11 others? There are two answers. First, there is a series of sound collage pieces, each titled "Black Foliage" with a parenthetical subtitle to set them off from one another. These are spread intermittently throughout the record and comprise six of the eleven. These are themes, much in the way that classical music has themes that are repeated and altered throughout the course of the piece. Each part of the "Black Foliage" set revisits the titular musical theme and it helps the album keeps its togetherness. Second, there are small chunks of the aforementioned musique concrete both within tracks and separate. These small tracks, annoying if you're either paying per track or have your CD player on random, are the connective tissue. On their own, OTC's pop compositions wouldn't hold up as an album, merely as individual set pieces. Immersed within the context of the themes and connective pieces, it unites it into what is unmistakably an album. There is no stopping from beginning to end – all of the small set pieces (some tracks only four seconds long) help make this an album in every sense of the term. You can pull individual songs loose, but Black Foliage is best enjoyed from beginning to end. – j. neas

Sidenote: Here in the age of digital music, we've been talking a lot lately about the devaluation of the long-player album as an art form. Black Foliage is an album experience if there ever was one, as it simply does not work in pieces, nor should it. What other albums immediately come to mind that must be taken as a whole? Hit us up in the comments.
Related: Jeff Mangum :: XFM Radio Session – May 1998

Download:
MP3: Olivia Tremor Control :: Hideaway
MP3: Olivia Tremor Control :: Grass Canons
———–