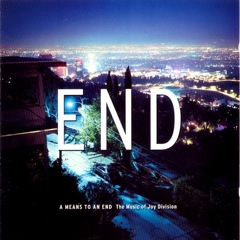 Moby is a curious cat. After breaking techno wide open in the early '90s, he dabbled in industrial-lite dance music, only to wind up the hero of Pure Moods compilation makers and the people who make in-store soundtracks for stores that have a philosophy. His new album, Last Night, came out this week, but I want to take a look back at that moment in time when Moby was flexing his roots.
Nothing displayed this more than a pair of covers that he did in 1995/96. The first was his contribution to the Means to an End: The Music of Joy Division tribute compilation. A great collection which is now out of print, it gathered a pretty nice collection of 90s indie-rock luminaries and legends (Girls Against Boys, Low, Kendra Smith, Tortoise), and some bands now lost to the mists, to pay tribute to one of post-punk's most enduring bands. Here, Moby takes on "New Dawn Fades" and turns it into a screaming catharsis. It's not a bad take on a classic moment in punk and Moby gives it just enough umph to make it something you would actually want to listen to more than once.
The next year, on his rather universally panned album Animal Rights, Moby would take on another legendary band: Mission of Burma. His version of "That's When I Reach for My Revolver" was actually the single off of the album. And prompted MTV to change the on-air lyrics to "that's when I realize it's over." (Seriously – what have MTV's censors been smoking over the years? "Smack My Bitch Up" gets played, but they change those lyrics and ban this Toad the Wet Sprocket video? Bizarre.) It's a decent run through one of the Burma classics from Signals, Calls and Marches and yet again displays Moby's, at the time at least, obvious fixation on early 80s post-punk.
Moby made one pretty stellar album during this time period (Everything is Wrong) and one spectacular failure (Animal Rights), but he also left some pretty good evidence of what his inspirations were at the time. – j. neas

Download:
MP3: Moby :: New Dawn Fades (Joy Division)
MP3: Moby :: That's When I Reach For My Revolver (Mission of Burma)
———–
* * * * * * * * * * * * * * * * * * * * * * * * * * * * * * * * * * * * * * * * * * * * * * * * * * * * * * * * * * * * * * *
Joy Division – Shadowplay (First Television Appearance)
+ Download DRM free music via eMusic's 25 free MP3 no risk trial offer
——————————————————————————————————————————–