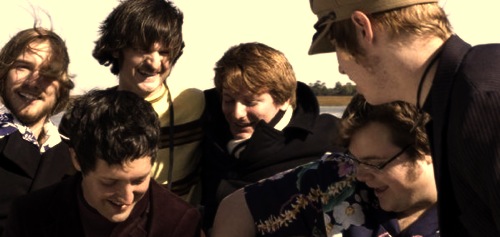 Off The Record is a recurring feature, here on the Drunkard, that marries two of my greatest interests; music and travel. Having a locals perspective when visiting a new locale is the difference between experiencing it through the lens of a tourist and of that of a native.
Off The Record gathers some of my favorite artists, asks them to reflect on their city of residence, and choose a handful of places they could not live without, be them bookstores, bars, restaurants or vistas.
Todays edition of OTR catches up with The Explorers Club who call Charleston, SC (one of my favorite coastal U.S. cities), home. A mix of old world charm and eclectic Southern culture, Charleston embodies a unique niche here in the states rarely found outside the low country. The Explorers Club's full length album is due out in May 20th via the Dead Oceans label and the band are set to tour behind it this Spring/Summer.
* * * * * * * * * * * * * * * * * * * * * * * * * * * * * * * * * * * * * * * * * * * * * * * * * * * * * * * * * * * * * * *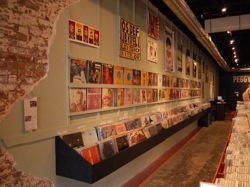 52.5 RECORDS – My favorite local record store is our independent store whose motto is "Corporate rock sucks," and I applaud them for saying that. They have new and used CDs, vinyls, DVDs, posters, t-shirts, magazines, books, buttons, postcards, and other cool stuff, but mostly good music. They have most of the indie records that you can't find anywhere else in town. They also have all the good classic albums and older hard to find albums that are a must for any music lover, and they're all at reasonable prices. I've spent several hours in this store. The owner is really cool and really helpful and he drives an awesome old Vespa. Sometimes there are live shows here, and they're always very, usually free, and usually packed with all of the Charleston hipsters. Located on King Street.
BLUE BICYCLE BOOKS – This is my favorite used bookstore, good selection, affordable, as you browse through the small narrow hallway of tall bookshelves. I once found a Dashiell Hammett collection printed in 1946 called "Mystery Omnibus" and it contains his classic noir novels the Maltese Falcon and the Glass Key. Any bookstore where you can find something like that is worth going to. I usually look into the literature section, but they seriously have books about everything and they have some cool little displays and features in the front of the shop near the register. It's not too far from 52.5 RECORDS and it's Near Marion Square, which is a nice open park. Located on King Street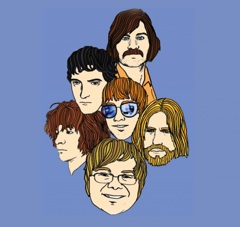 THE EXCHANGE FACTOR – Also not far from Marion Square is my favorite vintage clothing store. If you want some real retro threads from the 1970s and 1980s, maybe even older, this is the place. Shirts, pants, jackets, coats, boots, belts, ties, vests, they have it all. I dare you to find one thing here that you don't want to leave the store with. The prices are obviously higher than a regular thrift store, but they're very decent compared to some other vintage stores I've been to. And the stuff they have is totally worth their price. They also have some new clothes if you're looking for that. Although they don't have vinyl anymore, the have tons of CDs and music DVDs that are so rare you can't find them elsewhere. Some people might call these "imports." If you're looking for tattoos and piercings, they do that too, and if you don't like your ink anymore you can always hide it under some cool vintage jacket. It's located on Meeting Street.
KAMINSKY'S – My favorite downtown cup of coffee can be found at this great coffee shop along with delicious desserts, cakes, milkshakes, specialty exotic coffees and coffee drinks. It's only a few blocks away from the Exchange Factor, and it's on Market Street, right near the market in the center of the city. The Market itself is really more for tourists, but it's worth seeing if you're in Charleston for the first time. The handmade basket-weavers always draw a lot of attention, and they have a vibrant Gullah history. There are a lot of other historical places in Charleston too, such as the Battery, where there is a nice waterfront park and some old Civil War cannons, or perhaps replicas.
COMMUNITY THRIFT STORE – I know I speak for Wally and myself in saying this is our favorite thrift store. It's also where I find a lot of the clothes that I wear on stage. I think the most I've paid for any one thing is $3. You just have to sift through a lot of clothes, but you'll almost always find at least one or two awesome shirts. The only thing is that it's not actually in downtown Charleston, it's in North Charleston on Rivers Avenue about 10 minutes down the road from downtown Charleston. You can hit up all of these places in one afternoon if you do it right. While there are some other cool places, the ones listed here are the must see places as well as our (yes that means all of us) favorite places. – Stefan Rogenmoser (Explorers Club, piano)

Related: Previous installments of aquarium drunkard's Off The Record series…

Download:
MP3: The Explorers Club :: Do You Love Me?
———-
Pre-order: The Explorers Club – Freedom Wind
www.myspace.com/explorersclub ++ www.deadoceans.com ++ off the record
+ Download your digital music via eMusic's 25 free MP3 no risk trial offer
—————————————————————————————————————————–