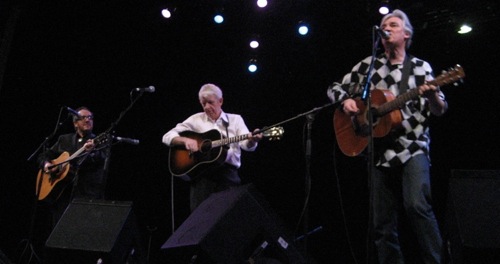 Robyn Hitchcock and Nick Lowe are set to perform, tomorrow night, here in Los Angeles at the El Rey. AD NYC correspondent, adam mandel, reports from the Manhattan show last night, giving us a preview of what's in store for L.A.
"Welcome to a previously unknown location in Manhattan," said Robyn Hitchcock as he opened up his set in the rarely utilized Grand Ballroom, a venue above the more famous Hammerstein Ballroom. "Actually this used to be an air ship." Hitchcock's odd stage banter may have been off-putting for someone unfamiliar with his canon, but most of the crowd were thrilled to hear tales of cheese alarms and crying wax dolls. "I am very lucky, I get to see three Nick Lowe shows, get paid, and I get to travel the country."
It was an all acoustic evening and Hitchcock set the tone perfectly. "I'm sort of like Nick's younger psychedelic brother, but I'm a bit more fractured. When Nick starts to play you'll see that the energy in the room becomes completely different. Much cooler." Nick Lowe arrived looking much like a college professor and played songs from throughout his career with much emphasis on his latest At My Age which sounded excellent. He apologized for a sore throat that he managed to "smuggle from London into JFK" and mentioned that he would be hitting some bum notes. No one seemed to notice as they were completely charmed by Lowe whose swagger seemed to channel Buddy Holly and Eddie Cochran for much of the night.
While hits like "Cruel to Be Kind" and "(What's So Funny About) Peace, Love and Understanding?" were the most well-received, the biggest surprise of the night came during the encore where Elvis Costello appeared out of nowhere to duet with Nick on "Indoor Fireworks." The seated audience at the Grand Ballroom rose to their feet and continued to stay there snapping pictures throughout the entire encore when Hitchcock came back to join the two for a gorgeous cover of the Beatles "If I Fell" followed by "Mystery Train" made famous by another Elvis.
MP3: Robyn Hitchcock :: Museum of Sex
MP3: Nick Lowe :: Shake & Pop