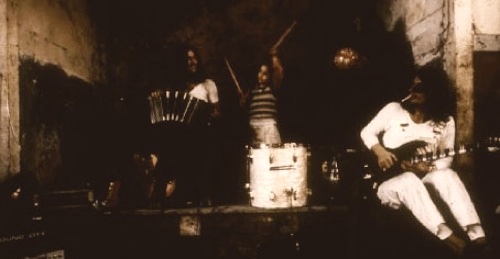 "There were three great beats in the '70s: Fela Kuti's Afrobeat, James Brown's funk and Klaus Dinger's Neu! beat." – Brian Eno
The very word, "Krautrock," seems like a joke. And truly it has been used for both praise and derision. But its main architects have had an unceasing influence on rock and roll – from the mechanical dance of the various industrial movements to the swarming wash of shoegaze. Klaus Dinger was one of the most influential parts of that Krautrock equation. Initially a member of Kraftwerk, but most importantly a founding member of Neu!, Dinger was to drumming what William Carlos Williams was to poetry – within his work's almost mechanical simplicity was the very essence, the heartbeat, of life.
Dinger created a drumming style that would become known as 'motorik.' As the name implies, listeners were treated to repetitive, workmanlike patterns, almost like the pistons on a motor. Dinger, himself, didn't like the name. "[Motorik] sounds more like a machine, and it was very much a human beat," he said. "It is essentially about life, how you have to keep moving, get on and stay in motion." Indeed, if looked at from that perspective, Brian Eno's quote makes even more sense. Alongside the life affirming, celebratory beats of Fela Kuti and James Brown, Neu!'s work was the propulsive breath.
Whether acting as a rhythmic twin for bandmate Michael Rother's chugging guitar, as in their debut album's opening track, "Hallogallo," or as a foil for the noisy and deliberate chaos of Rother's work on Neu! 2's "Lila Engel (Lilac Angel)," Klaus Dinger was arguably Neu!'s defining characteristic. Through the band's three proper albums, despite changes in instrumentation and attempts at tape manipulation, ambient, brash proto-punk and gorgeous synthesizer landscapes, Dinger's work was there.
Though his work after Neu! was more popular (his first post-Neu! band sold over a million records by the end of their run), there's no end to the influence his work with Neu! had on rock and roll and music is a much richer place that he was here. Judge for yourself, below. – j. neas

Download:
MP3: Neu! :: Hallogallo
MP3: Neu! :: Super
MP3: Neu! :: Hero
———
+ Download your digital music via eMusic's 25 free MP3 no risk trial offer
—————————————————————————————————————————–