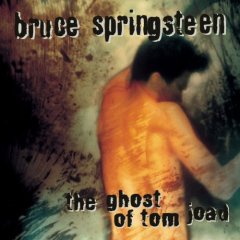 In light of recent events, AD contributor j. neas reflects on Springsteen's 1995 LP The Ghost of Tom Joad, and how the material makes just as much sense in 2008 (if not more). – AD
In the middle of the Clinton '90s, it was sometimes difficult to feel like there were hard times anywhere. Sure, we were involved in Bosnia, Somalia and ignoring Rwanda, but hey! Internets were booming and the Y2K bug was everyone's biggest concern. But leave it to the Boss to spot the rot beneath the facade.
In light of this article, his chilling "Youngstown" from The Ghost of Tom Joad is even more revelatory. The boom gone bust. Hailing from an area whose two major industries were the now defunct Cannon textile mills (which took a long, slow slide into obscurity via the NAFTA and CAFTA agreements) and Phillip Morris cigarette manufacturers, I know a bit about the collapse of industry myself.
My home area has managed to recover, but in a lot of places that just isn't the case. In those places, for native and immigrant workers alike, the lure of easier, better money is constant. In the North Carolina mountains, the profitable, but often lethal, production of crystal meth has become one of the ways people have sought out of the hard life. The Drive-by Truckers wrote about turning to dealing in "Putting People on the Moon," but the Boss was at it earlier on ..Tom Joad with "Sinaloa Cowboys," one of the saddest and truest songs he has ever put to tape. – j. neas
Download:
MP3: Bruce Springsteen :: Youngstown
MP3: Bruce Springsteen :: Sinaloa Cowboys
————
Amazon: Bruce Springsteen – The Ghost of Tom Joad
+ Download your digital music via eMusic's 25 free MP3 no risk trial offer
—————————————————————————————————————————–