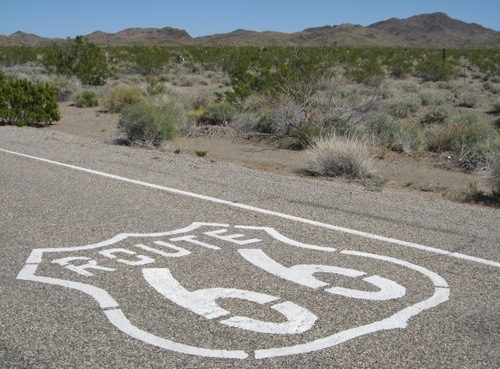 The road tales continue in this second edition of Car Jamming. As I previously mentioned, until Thursday, we had been traveling east on Route 66 (when applicable) from L.A. en route to the Southeast. Before hitting the Mississippi Delta (where I am presently writing this, after a plate full of crawfish, during Clarksdale's Juke Joint Festival), week one consisted of stays in Kingman, AZ – Gallup, NM – Shamrock, TX – Springfield, MO, and a two night detour in one of our favorite Southwestern towns, the uniquely eclectic Santa Fe, NM.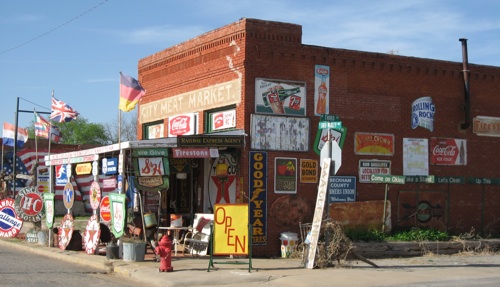 If you have ever traveled "the mother road" then you are well aware of the creatures that reside whithin its path — both the mainstream Route 66 crowd and its fringe element..the good, the bad, the ugly, the desert rats, the insane, the meth cooks, and the concrete, cocaine, cowboys. While I can reasonably claim to have witnessed every manner of Route 66 denizen, for right now let's just concentrate on the bizarre. Soon after crossing over the TX/OK border, traveling east of 66, you will come upon Erick, OK – slow down or you will blow right past it.
Marginally known as the childhood home of country-lite artist Roger Miller (in fact, they have a Roger Miller Museum), the reason we turned off the exit was to check out Harley and Annabelle Russell of the Sandhills Curiosity Shop. From the scant literature and information found online, the couple's shtick looked like something out of Deliverance had David Lynch directed it. Self-described "mediocre music makers in the redneck capital of the world," Harley and Annabelle blur the line between performance art and reality begging you to "see rednecks work and play in their own environment." While their act is more or less the same with each group of visitors, its a nice slice of that old, weird, Americana that slips away a little more each passing year with the construction of every cookie-cutter neighborhood, Starbucks and Pinkberry. Now, should you ever find yourself traveling on old Route 66, I won't give way the details of the Harley and Annabelle experience, but I did film the last two songs (note that this was approximately 10:30 am, spirited indeed). I'll let the video speak for itself.
Next On Car Jamming: I'll spin some tales from Clarksdale, MS's Juke Joint Festival — 24 Oz. Budweiser style.
* * * * * * * * * * * * * * * * * * * * * * * * * * * * * * * * * * * * * * * * * * * * * * * * * * * * * * * * * * * * * *
Download:
MP3: The Clash :: Car Jamming
—
Video: Nat King Cole :: Route 66

Amazon: The Clash – Combat Rock
+ Download DRM free music via eMusic's 25 free MP3 no risk trial offer
——————————————————————————————————————————–