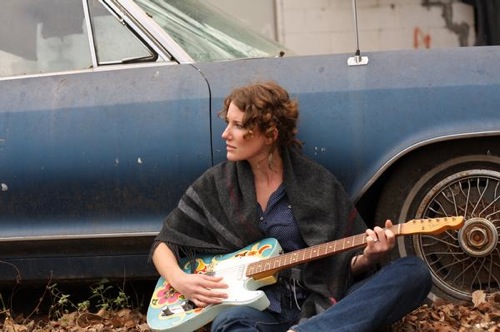 Canadian singer-songwriter Kathleen Edwards' debut, 2003's Failer, made our top ten list of that year. Five years and three albums later, Edwards, on tour in support of her new album Asking For Flowers, sat down with AD to discuss the new album, and what she's been up to since '05s Back To Me.
* * * * * * * * * * * * * * * * * * * * * * * * * * * * * * * * * * * * * * * * * * * * * * * * * * * * * * * * * * * * * * *
Aquarium Drunkard: The break between your last record and this new record was actually a little bit longer than the time period between your first two records. What were you doing in between 2005 with Back to Me and 2008 and the release of Asking for Flowers?
Kathleen Edwards: Well, I toured a lot for Back to Me in 2005 and 2006, and then in the spring of 2006 I was pretty burned out and, you know, it's just one of those things. Since almost 2001, 2002 I've been in this crazy whirlwind of activity and I've moved five times and I've toured non-stop and I'd lost a little bit of my sense of being in one place for a period of time. I think you really become sort of disconnected from people and from living a normal life, whatever that means. I really just needed to stay in one place for awhile.
AD: Did that have any affect on the themes and the tone of the new album?
KE: Yeah, I think it did. I sort of set out on this record going I want to write songs that aren't just about me and love lost and love gained and some of the stuff that in my early 20s was the stuff I was writing. I wanted to bite off a bigger chunk this time and be a little more invested in some of the content on my songs and I wanted them to be songs about people I knew and lives that I know and people that are real to me and try to honestly and with integrity write these songs for people.
AD: Can you give us a bit of insight into the title track and where that and the album title came from?
KE: Yeah. "Asking for Flowers" was a song I wrote for one of my really close friends. She actually, during this time off I had, was going through a really tough time and has struggled for years with physical and emotional problems. I went to see her at probably one of her hardest times and she told me that her life had been like asking for flowers with some of the judgments and feelings of inadequacy that she had lived with all these years. That the idea of giving somebody compassion and giving them their time without judgment, living a life of asking for flowers. I asked her what that meant and she said being with somebody who just wants to bring them to you and you shouldn't have to ask for them. Someone should want to just bring them to you.
AD: You talked about wanting to write more songs about people that you knew or lives that you felt you were interested in – an external thing. And I think that comes across, especially in two songs that pair together well – "Alicia Ross" and "Oh Canada." Living in the States, a lot of people may not know who she was, and correct me if I'm wrong, but Alicia Ross is to Canada what Natalie Holloway was to the States, in that it was this girl who went missing and no one was sure what happened to her. But her case was eventually solved, correct?
KE: Yeah, her case was solved. Alicia Ross was a young woman in Toronto who lived at home still and was in her early 20s and she sort of never walked in the door one night after her boyfriend had dropped her off. Her mother began a very public campaign and search for her child. It's one of those things; you see it in the press and sometimes you're not moved. I just mean that honestly. Sometimes you don't connect with the story or the person. You can turn off the station and it's not your problem or it's not your friend. And in this case, and maybe it's an age thing, I suddenly realized 'what would it take my mother to get out of bed every morning knowing that I might be dead somewhere? And how do you reconcile that and how do you move on and not sort of live under a rock the rest of your life?' I just kind of felt like that could have been my mother and I saw that and felt it and I think maybe that is an age thing. I realized there are so many things in my life that have gone unsaid between my mother and I and I think that's where that song came from; acknowledging that moment where that person died and thinking they probably wished their mother was with them. It's pretty heavy and dark, but it also happens.
CONTINUE READING AFTER THE JUMP…

AD: There also seems to be a thematic connection between that and a song later on the record, "Oh Canada." It seems there's this indemnification of the media's role where, there are cases like this that get a lot of attention. But then there's the line in the song, and I'm paraphrasing, that no one pays attention when a black girl dies – that there's almost this double standard about what the media pays attention to. Did this come out of comparing stories like Alicia Ross that get a lot of attention and other similar stories that don't?
KE: Well, it wasn't specifically based on Alicia Ross. In Toronto there was an incident. There's been a lot of gun violence in Toronto and it's related to a lot of gangs and at the core of it, it's related to communities that are existing with a lot of single parents and having kids and not having a lot of fathers in the community. It's this vicious cycle of abandonment and abandonment happening over again. Basically what happened was a white girl was shot and killed by a stray bullet in downtown Toronto. It was a total tragedy this girl was killed, but it was on the cover of all the papers and national papers. It had been a year where a lot of people had been killed and a lot of innocent bystanders had been killed and a lot of them were black. And their faces weren't on the national covers of papers and it really pissed me off. I was living in that town and I just felt that that whole statement, that this town had lost its innocence after this girl dying, was such a negative and really disturbing perception of who's suffering out there and it really pissed me off. I wrote that thing about "there are no headlines when a black girl dies" and it's one of those things that disturbs me deeply.
AD: As far as taking national things and looking at them in a more specific way, you do a similar thing with "Oil Man's War." It deals with the Iraq war but in a more personal way.
KE: "Oil Man's War" is not so much a political song – I know that's hard to believe. It's actually a story of a family I met who'd been living in Canada for years and years and left [the United States] during the Vietnam War and raised their family and stayed in Canada. It's that sort of feeling that someone would feel so strongly against participating in something, like being in a country that participates in war, that they would leave. Leave their families and leave places they loved and grew up in and had a lifetime of memories in, for the sake of their ethical beliefs and it's about what the consequences of that are. That's sort of more what the song's about and the feeling that people would be ostracized for believing or not believing in something. It's so un-democratic and yet it's so common in our democracy these days.
AD: Before this new record came out, you appeared on John Doe's latest album, A Year in the Wilderness, on a track called "The Golden State." How'd you get together with him?
KE: I met John a bunch of years ago at this Gram Parsons tribute concert. He called ahead and asked, 'I cold sing "We'll Sweep Out the Ashes in the Morning" and would Kathleen come up and sing it with me?' And I was like 'Oh, my god! The John Doe? Yes! Hello?' and we just totally hit it off. He's such a great guy and somebody I'm secretly dying to do a mini-tour with and maybe do a little EP. I thought that "The Golden State" song turned out so well. He deserves all the credit for it – he wrote the song and reached out to me on it and so it was really cool. It was one of those things, I'm really honored he asked me to be in.
AD: You're also out on tour right now with Dan Wilson, formerly of Semisonic, who has a new album out. How'd you get set up with him on this tour?
KE: His name was sort of thrown out there through the channels of 'the biz,' quote unquote. [laughs] That's so cheesy. I actually really loved Semisonic a couple of years ago when they were sort of at the peak of their careers. They were a great band and had lots of great songs. But I actually am a huge Dixie Chicks fan, in the sense that I'm very happy for them that they had that comeback – not a comeback, they never went away – but that feeling of validation for some of the stuff they went through that was pretty brutal. Dan was pretty involved in the making and songwriting of that record [ed. note – Wilson had co-writing credit on six of Taking the Long Way's fourteen songs in addition to playing on the album] and I was certainly in awe of him for that. So it just worked out perfectly. He's such a nice guy – I was telling one of my band mates, I don't even remember if there was any moment where he came on the bus and he didn't feel like he was one of the group. He's a lovely guy.
AD: You're getting ready to release another single off of the record, "I Make the Dough, You Get the Glory," is that right?
KE: Yeah, single, schmingle. [laughs]
AD: And you're doing a video for this, which you told the story about last night at the show.
KE: In "I Make the Dough, You Get the Glory" there's a line in it where I make a reference to a former NHL player. And I was told 'we'd like to make a music video for the song' and I was okay, great, that's awesome. I want this guy, [the hockey player] Marty McSorley. And he was kind of like a goon on the ice. He was a defenseman, a heavy hitter. I think he has one of the all-time highest penalty minutes [ed. note – McSorley is # 5 on the all-time list] and I wanted him to be in the video. So we reached out to him and he's going to be in it. And I wanted to make a hockey video and I've had some people kicking and screaming all the way in supporting me in that. But I really wanted to make a hockey video and I thought it'd be really funny if he was in it. – j. neas
Previously: Kathleen Edwards :: Asking For Flowers

Download:
MP3: Kathleen Edwards :: Westby
MP3: Kathleen Edwards :: The Cheapest Key
———-
Amazon: Kathleen Edwards – Asking For Flowers
+ Download Kathleen Edwards catalog via eMusic's 25 free MP3 no risk trial offer
——————————————————————————————————————————–