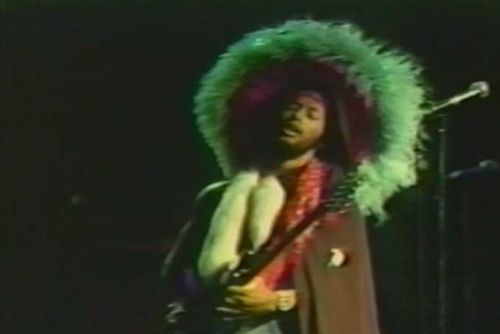 Heading to the second weekend of Jazzfest in New Orleans? If so, head to Republic Friday night, May 2nd, as Aquarium Drunkard presents George Clinton/Parliament/Funkadelic. The combination of George Clinton and 'Fest should be insane.
We have ten pairs of tickets to give away to AD readers. To land a pair, leave your full name, a valid email address, and your favorite P-Funk jam in the comments. Winners will be notified via email prior to Jazzfest. See you in New Orleans…
Download:
MP3: Funkadelic :: Can You Get To That
———-
Purchase Tickets: P-Funk @ Republic NOLA
* * * * * * * * * * * * * * * * * * * * * * * * * * * * * * * * * * * * * * * * * * * * * * * * * * * * * * * * * * * * * * *

New Orleans Jazzfest – Second Weekend – Beyond The Fairgrounds…
Nearly every news post about the New Orleans Jazz Fest makes a point of mentioning the perennial lack of Jazz at the Fest itself. For better or worse, Jazz Fest's organizers are more concerned with celebrating the diversity of homegrown Louisiana music, from New Orleans bounce to Cajun to the big-armed funk that the city has become better known for, not to mention the requisite A-list acts that headline the Acura Stage to crowds of up to 150,000.
But the real soul of the two-week long festival has always been not at the New Orleans Fairgrounds (where Jazz Fest proper is held) as it has in the grids of the city map. Like the city it calls home, Jazz Fest is more a celebration of the obscure, the obtuse, and the enigmatic, and it's never afraid to juxtapose tradition with modernity.
To that end, anyone headed to New Orleans for the second week of Fest (May 1-4) and searching for something off of the beaten paths of the Fairgrounds should have no trouble; in a city so old and rich in culture, it's hard to find a path that hasn't been beaten into something new and interesting.
Perhaps the most intriguing collaboration of Fest should be that of DJ Kid Koala and members of the Preservation Hall Jazz Band on May 3rd at the venerated French Quarter haunt Preservation Hall. Kid has never been one to shy away from the past (his video for 2003's "Basin Street Blues," itself a stumbling, choppy jazz funeral number, was shot in the Quarter and will be played in the Hall during the set). In addition to spinning his own music, Kid will be joined by members of the PHJB as well as other local funksters.
Following Kid Koala's set, Ninth Warders the Morning 40 Federation carry their neighborhood swagger with them into One Eyed Jacks with a 1:00 a.m. set that will assuredly last until the early morning. The 40's have made a name for themselves in the city for their sloppy-drunk romps and raucous live sets that draw equally from classic punk and Tom Waits, as well as traditional Ninth Ward street funk. There's no better way to sweat out the day's beer than by losing yourself in a 40's show.
Topping off the weekend, and closing the festivities back at Preservation Hall at 11:59 on Sunday night, is the New Orleans Bingo! Show, whose demented freak-outs earned them their own stage at this year's Voodoo Music Experience. Considered perhaps the darlings of the Ninth Ward junk-folk scene, the typical Bingo! Show is just that — a live bingo game — played in the midst of bizarre absinthe rock that evokes idyllic images of Paris, or maybe a German circus complete with cigarette-smoking monkeys. Between the bullhorns, Theremins, horn sections, and big top showmanship of emcee Ronnie Numbers, the Bingo! Show creates an energy that, in its patchworked celebration, mirrors the city itself and provides the perfect close to Jazz Fest. – m. garner
+ Download DRM FREE music via eMusic's 25 free MP3 no risk trial offer
——————————————————————————————————————————