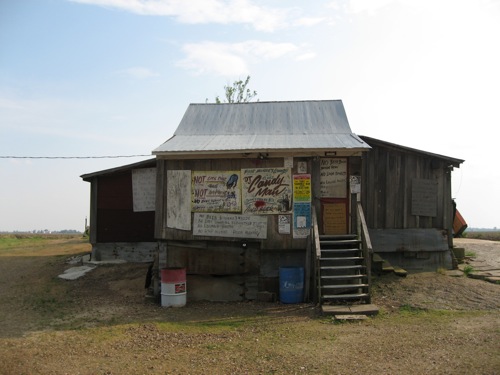 (note: i'm on the cross-country road trip for six weeks doing research on a book about memphis and the delta blues trail. car jamming is recurring feature that documents random curios along the way)
"I would hate to have lived my whole life and never been to Po' Monkey's." – myself to Mrs AD after thirty minutes – and three beers – inside…

While I would love to post on every juke joint and ramshackle blues room around the Mississippi Delta, I simply don't have the time, and if I did there would really be no reason for anyone to buy the book when it comes out. That being said, there is no way I can let another day pass without saying a little something about Po' Monkey's Lounge just outside Merigold, MS. If you're looking for an authentic jook house, brother, you got it.
Literally located a mile or so down a dirt road – in the middle of a cotton field – Po' Monkey's Lounge is the physical embodiment of every deep South, post-War, rural juke joint you've ever read about and/or seen in photographs and documentaries. Constructed from an early twentieth century sharecropper's shack, the structure that houses Po' Monkey's was transformed into a makeshift lounge in the 1950s by owner Willie Seaberry (aka Po' Monkey) and has been an off-and-on good timin' establishment for locals ever since. Only open on Thursday nights – and it's said that the place stays open late – this is the real deal, seminal, and one of the last remaining rural jukes akin to the ones that gave the Blues a home around the time W.C. Fields got wise. This is time-travel sans the machine.
Unlike some jukes, Po' Monkey's rarely has live music (usually only during festival time), but is home to an amazing house jock who spins under the name DJ Candy Man specializing in regional soul and r&b – most of which boasts overtly sexual lyrics hardcore enough to make Clarence Carter blush. DJ Candy Man regularly gets on the mic to either comment on, or talk to, the crowd. Inside the shack, typical jook house decor rules: multi-colored streamers, mismatched tables and chairs, pool table, beer and liquor posters, and this being Po' Monkey's, plush, stuffed animals monkeys hanging from every available rafter. The TV in the back, next to the seventies-styled DJ booth, flickers between color and black & white, but is pretty much obscured by the dancing and carousing of the over-thirty-five patrons shaking their shit. Like most juke joints worth their salt, beer is available (and mostly sold) via 40 oz bottles of Budweiser accompanied by a napkin and two Dixie cups for drinking.
Like I mentioned, this is very much a local crowd with a local vibe, but the room could not have been more inviting. After paying our five dollar cover at the door, Seaberry (Mr. Po' Monkey Himself) greeted us, told us to make ourselves at home, drink up and have a good time. It's worth noting that Seaberry is known to change his outfits up to six times during an evening – each time parading around the room making sure everyone in the house knows what's up. Below are a few photos we snapped that afternoon, a few hours before the doors opened. Truly a funkyass good time — I cannot wait to go back.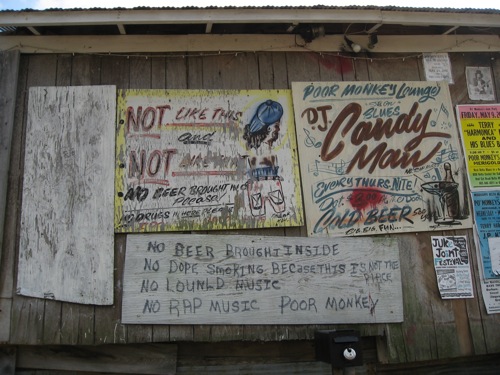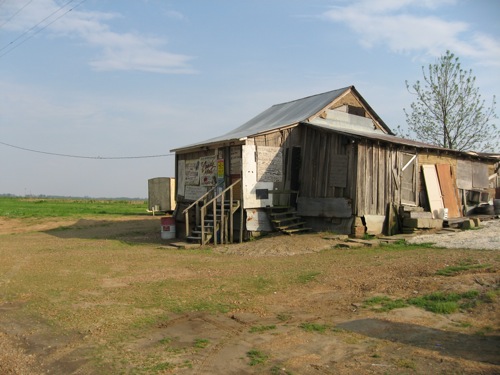 + Download DRM FREE music via eMusic's 35 free MP3 no risk trial offer
——————————————————————————————————————————