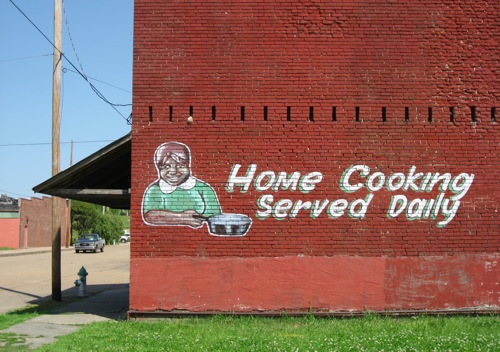 (note: i'm on the cross-country road trip for six weeks doing research on a book about memphis and the delta blues trail. car jamming is recurring feature that documents random curios along the way)
Yesterday morning, after leaving the Shack Up Inn, we crossed over the Mississippi river into Helena, Arkansas, the once bustling port-town that was at one time home to Sonny Boy Williamson, the King Biscuit Time radio program, Robert Nighthawk, Howlin' Wolf and for the last few years of his short life, one Robert Johnson.
Like much of small town America, Helena has suffered economically the past four decades due to a host of reasons – agrarian modernization, northern migration, loss of river traffic, etc, etc. While the downtown center is now comprised of half empty buildings, native Helena regional and blues historian, Bubba Sullivan, spins tales of Helena during the first half of the twentieth century when it was described as a "little Chicago," open all hours and filled with all manner of hotels, bars, juke joints and restaurants. In essence, the town was wide open with an anything goes attitude.
While not from Helena proper, Band vocalist/drummer, and current Midnight Rambler, Levon Helm hails from nearby Marvell, AR with roots in and around Philips county. In fact, Helm's visage can be found painted on the mural that graces the Helena town levee.
Below: Check out the recently shot/edited film by Jacob Hatley that was inspired by Helm's excellent 2007 comeback album Dirt Farmer. Available online for a limited time only.

Download:
MP3: Levon Helm :: Calvary
———-
Amazon: Levon Helm – Dirt Farmer
+ Download your muisc via eMusic's 25 free MP3 no risk trial offer
—————————————————————————————————————————