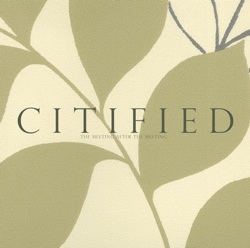 There's something to be said for brevity – albums that know when to quit and don't stick around too long. All too often I'm subjected to albums that have just too many songs, or even EPs with lackluster filler surrounding one or two solid entries. When albums come out that are honestly fantastic from stem to stern, it's worth noting.
Greensboro, North Carolina's Citified released their first album back in 2005, but its follow-up, The Meeting After the Meeting, has been worth the wait. Channeling elements of everything from the Red House Painters to REM, from Echo and the Bunnymen to a more organic Depeche Mode, Citified is a band who bears repeated, careful listens revealing a divine craft for layered production.
The melancholic, reflective "Weddings" is the EP's opener and the song most akin to Depeche Mode in style. The brooding keyboard and lyrics create an autumnal tone – "Open bar / means I'm safe" – the lyrics implying something worth drinking about. The soaring "KL Gala" holds one of the EP's finest moments – a mid-song faux-fade that makes it seem, if only for a moment that the song is left floating in mid-air. The hazy crunch of "March Through Mayday" turns Citified into a contemporary of My Morning Jacket – blissful chorus and start-stop verse riffs that tremble and vibrate beneath the uniform reverb vocals.
Citified's tendency to create unique moments within songs is what makes their music stand out and it's "Read Like a Number" that ends up being the crown jewel of the record. The neatly picked melody beneath the propulsive swirl of the vocals creates a mighty song that really takes off in the entry to the first chorus – four-part harmony falls into place, one voice at a time, before crashing into the chorus. It's the type of moment that makes a song and can even make an album and here, nestled among the moments that inhabit every song, it serves to push the entire EP to a point above and beyond. – j. neas
Download:
MP3: Citified :: Read Like A Number
MP3: Citified :: Weddings
———
Amazon: Citified – The Meeting After the Meeting

+ Download DRM FREE music via eMusic's 25 free MP3 no risk trial offer
——————————————————————————————————————————