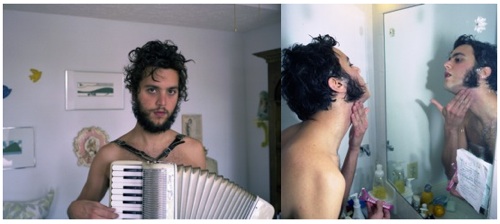 Off The Record is a recurring feature, here on the Drunkard, that marries two of my greatest interests; music and travel. Having a locals perspective when visiting a new locale is the difference between experiencing it through the lens of a tourist and of that of a native.
Off The Record gathers some of my favorite artists, asks them to reflect on their city of residence, and choose a handful of places they could not live without, be them bookstores, bars, restaurants or vistas.
Today's installment of OTR catches up with The Everybodyfields' Sam Quinn who, throughout his years playing music, has called various Tennessee locales home, and presently (when not on the rad) resides in Knoxville. Look for The Everybodyfields latest album Nothing Is Okay (August 2007) out of Ramseur Records.
* * * * * * * * * * * * * * * * * * * * * * * * * * * * * * * * * * * * * * * * * * * * * * * * * * * * * * * * * * * * * * *
Five Things That Sam Quinn Misses The Most When He Is Away From Home
SPEED OF LIFE :: I live in South Knoxville and here things move at a pace that I can relate to: slow. I can usually find the time to enjoy the finer things in life like shooting bb guns, walking around the grocery store, drinking beer in my living room outside, swimming in the quarry — the real meat of life. I strive daily to become Huckleberry Finn, perhaps the greatest American who never set one toe on this fat land. Huck Finn probably would not have had a website, though. So it goes.
QUIET :: I read somewhere that Debussy said, "music is the silence between the notes." Riding in the van is a little activity of which I have logged many a long hour — pining, radio blasting the hit parade in the front seat while I experiment with different techniques of humming with my fingers in my ears. While I am a music lover, I tend to agree that silence is underrated, or maybe just the privilege to have it certainly is. To share your life with three other people in a car for weeks at a time is to sacrifice so many personal leisures. At home, a bicycle can whiz by the front of the house and it stirs the wind like a wing of beasts long extinct, not unlike Debussy.
CHICKEN SALAD :: Chicken Salad might be the best damned thing ever created. Randomly finding a tasty dollop of heaven on these highways and byways is about as likely as getting a bumble bee to draw you a picture of a monkey. Almond slivers — sure. Grapes, I am for them. There is a place called Kay's Ice Cream about two miles from my house that will slide me one over the counter for two bucks. They put too much butter on the bread and sometimes you find a bone in there but I shall not waste my time dwelling on matters such as these.
EAST TENNESSEE :: No Nashville. No Memphis. Just rolling hills, clean air and as much life in the right lane as one can handle. I love North Carolina. I love Oregon. I have even been to the desert and I entertained visions of staying, but when I close my eyes and click my heels together it is East Tennessee that is the fancy of my heart. Things can get backwards anywhere, but I would like to reiterate the philosophy that it takes all kinds. I have an immense love for the Great American South and I feel blessed to have spent the majority of my years in the throes of its temperate hem and haw. East Tennessee you are my mother and I am your son.
Download:
MP3: The Everybodyfields :: Aeroplane
MP3: The Everybodyfields :: Don't Tern Around
———–
Amazon: The Everybodyfields – Nothing Is Okay
www.theeverybodyfields.com ++ www.myspace.com/theeverybodyfields ++ @ eMusic
+ Download DRM FREE music via eMusic's 25 free MP3 no risk trial offer
——————————————————————————————————————————