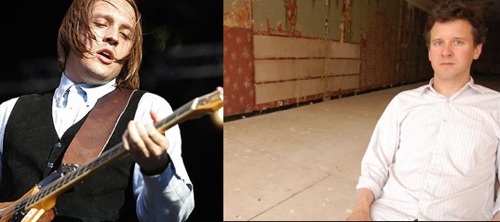 Arcade Fire and Superchunk just played the Obama rally in North Carolina. Aquarium Drunkard was there. Below, J. Neas speaks with both Arcade Fire's Win Butler and Superchunk/Merge Records founder Mac McCaughan about the show, the campaign, politics and the music.

Aquarium Drunkard: I wanted to ask how the Arcade Fire got involved with the Obama campaign and ended up playing some of these rallies – because [the Obama rallies in Greensboro and Carrboro, North Carolina] isn't the first time you've played a show as a rally for Senator Obama, is that correct?
Win Butler: Yeah, we did a couple of shows in Ohio and it was a really positive experience. We wanted to do it again, so it seemed like a perfect opportunity.
AD: Being labelmates, was Superchunk just a natural fit for coming down here to play a show?
WB: I gave Mac [McCaughan] a call and, you know, I've been in contact with several people in the campaign – there's a guy who is actually running the campaign in South Carolina who initially got in contact with us – and we were finally able to do something in Ohio. We've spent kind of a lot of time in North Carolina because Merge [Records] is based here and we've played with Superchunk before and it just seemed like it would be really fun to play an outdoor show and to do it for the campaign.
AD: A lot of people – critics and different people – when reviewing your most recent record, Neon Bible, had talked about their being political themes running through it – political in the sense of political in the personal. Is that something that you've felt in your songwriting recently or something the band has felt?
WB: I think it's hard for the world not to have an impact on your art. I think that there's always kind of an interplay between what's happening in your world and what you think about.
AD: Are the rallies something that's been getting a lot of positive response? How did the shows in Ohio go?
WB: They were great. It was very, very last minute and the campaign is very much run by volunteers – it's a very mom 'n' pop operation – and I ended up booking some of the shows and just threw a bunch of stuff in the van and drove down. For us it was just really cool to go and, even beyond the fans, just going and meeting a lot of people working the campaign, because people are just working their butts off and really doing it out of excitement. To be able to help with that a little bit was really satisfying.
AD: Is this something that if the opportunity arose, however the primaries turn out, you would consider going out and doing for the general election in the fall?
WB: To be honest, for me it isn't so much about our political opinions affecting anyone else. I think that we put a lot of energy into our music when we play and I think that a lot of times people observe the political process through TV – you end up watching campaign commercials and CNN and it ends up getting dictated to you. There's a real feeling of excitement in this kind of grassroots thing happening with the Obama campaign which has just been totally spontaneous and I think for us, what we're able to provide a little bit is giving people an excuse to get together and share in that excitement a little bit. I think looking beyond this primary, the general election is going to be a huge moment for the country and the more plugged in we all are, the more we're able to get together, I just think that it will have a big impact.
AD: I think with the voter turnout for these primaries, which has been astronomical across many states, and especially with, whether you think it's a good or bad thing, the prolonged primary in the Democratic side of things, it has given people in states that normally just don't get a chance to come out and share their opinions a chance to come out and do so, at least in the primary.
WB: I think it's ultimately a healthy thing. We'll see how it all goes in the end, but I think people being involved and sharing their opinions and kind of being together in the political arena is kind of a rarity and I think the amount of excitement that has been in this campaign has been directly attributable to some of the energy that Barack has brought and I just think it's a really different feeling and people are really responding to that.
Mac McCaughan:
AD: I wanted to ask how Superchunk got involved with playing this rally
.
Mac McCaughan: Well, we knew of course that Win and Arcade Fire had done shows for Obama in Ohio and I thought that was really cool. When it became clear that the North Carolina primary was actually going to mean something, Win called and said 'Hey, we were thinking we could come down and do a couple of shows, would you guys be into it?' And we said yes, you know, we only play a couple of shows a year at this point and we didn't have any of our shows scheduled. So we figured these could be our shows for this year. So we're excited about them.

AD: Has either Superchunk or Merge Records done a lot of this type of political work before?

MM: You know, I think it's interesting. I think everyone knows where we kind of stand on things, but obviously as a label, we can't speak for all the bands. But the band, I think people can kind of imagine where we're at. We did play a big Harvey Gantt benefit in Durham, when he was running against Jesse Helms [1996], and it was in a ballpark – we played and Polvo and Archers of Loaf – it was a huge thing and that was really fun, so we have done things like this in the past. But this seems the most kind of urgent and most high profile, certainly, in terms of it being a presidential race and the shows being with the Arcade Fire, who everyone knows. I think they should be fun.
AD: Can you talk a little bit about how you originally got Arcade Fire onto Merge Records?
MM: Yeah, there's a guy who played drums on Funeral [Arcade Fire's first LP] – used to be in the band – and he helped produce – he recorded Funeral, actually – named Howard Bilerman. We met Howard the first time Superchunk ever toured Canada. He came to shows in Montreal and we've kind of known him ever since. So a few years ago he sent – actually, first he sent a DVD and I couldn't get it to work, and he sent a CD and he said the band he was playing drums with wasn't his band and if we didn't like it he would understand, so he kind of downplayed it. But obviously we did like it and that's how we found out about them. I feel very lucky that Howard thought of us and sent the CD down.
AD: Is playing these kind of shows something you would be interested in doing for the general election as well?
MM: I think that we probably would be, but at the same time I don't like to think too far ahead on stuff like this because – if Hillary is the candidate, I'm not sure if we'd be as excited. Obviously we want a Democrat in the White House, but what makes Obama so exciting is he is different from pretty much any candidate I've ever had a chance to vote for.
AD: It is very exciting that for the first time, certainly during my career as a voter, and probably in a lot of people's memories, that the North Caroling primary actually is going to get a chance to mean something. It's kind of neat that a lot of North Carolinians are getting a chance finally to express themselves in various ways.

MM: Yeah, my wife and I went and saw Obama speak last night in Chapel Hill and that was exciting. And again, it's hard to think of any candidate that I would actually go to a political rally to hear them talk and see them in person. I think that the key thing about these shows is, obviously getting everyone to vote, but also letting everyone know that they can vote early. And even beyond that – because they've had early voting before in North Carolina – they have something now for people who haven't registered yet. They can register late and vote right then. Usually there's always been a deadline, but this year you can register up to May 3rd [the primary is May 6th], you can just go right into the early voting places and register on the spot and vote right then. That's a new thing that I think is pretty exciting. – j. neas

+ Download DRM FREE music via eMusic's 25 free MP3 no risk trial offer
——————————————————————————————————————————